Liverpool crumbled in the second half at the Etihad to fall to a 4-1 defeat at the hands of Man City, leaving fans with huge doubts over top four.
A Mohamed Salah strike put the Reds in front early on, only to be cancelled out by Julian Alvarez's equaliser 10 minutes later.
What followed was a second-half onslaught from Man City that Liverpool found difficult to live with.
Kevin De Bruyne's goal provided the Reds with the worst possible start, before Ilkay Gundogan and Jack Grealish struck.
Here, Liverpool fans Adam Beattie (@beatts94) and (@bkelly776) dissect a miserable afternoon for the Reds and give their verdict on the top-four battle.
Were you hopeful at all going into this one?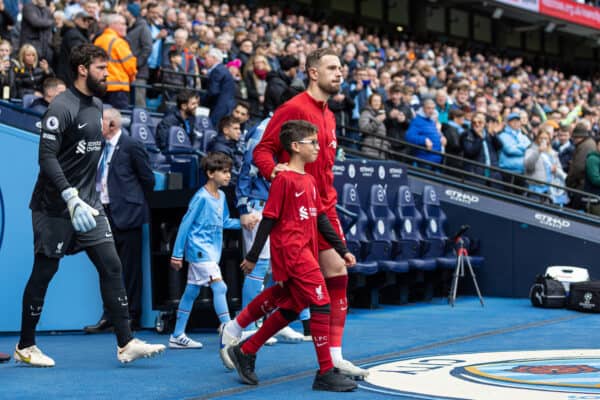 Ben: Not really, I think our more important battles are the ones coming later in the week and next weekend.
To quote a phrase often used in F1, they're not our race.
Chelsea is massive and I feel more confident being at home against Arsenal.
In regards to City, taking the lead was great and going in at half-time level was sound. The second half is where it all unravelled.
Adam: I felt fairly ambivalent heading into this one.
As you said Ben, it almost felt like a free hit and it's the first time in a long time I'd have accepted a draw had it been offered to me before kickoff.
Chelsea and Arsenal both felt like the more winnable ones on paper, the performance is what concerns me more.
It gives us very little evidence that we can put in the displays required.
What went wrong in that second half?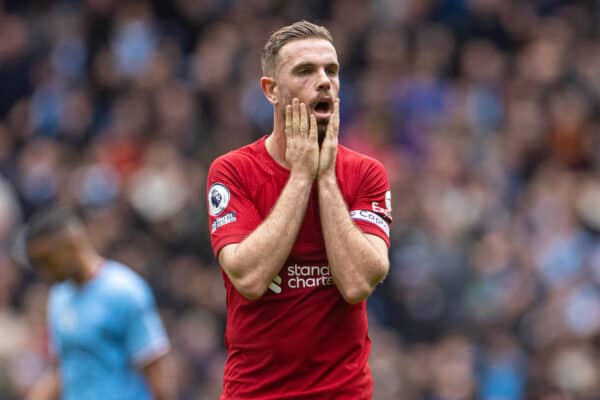 Adam: The goal obviously doesn't help, but the response to it was really worrying.
Far too many of the players began to feel sorry for themselves and, in truth, that scoreline could have been even more embarrassing if Man City had wanted it to be.
You can go to Man City and lose but throwing in a performance like that second half is inexcusable.
We have got to start reacting to adversity better and showing the sort of mentality that we used to be praised so highly for.
Ben: We didn't start the half at 100 percent and then we never recovered. You can't do that against these.
The situation we find ourselves in for the second goal, less than a minute after half-time, is absolutely unforgivable.
We needed to get to 60 minutes level, 75 would've been even better. We'd completely undone our whole game within a minute of the restart.
How much of a concern was the defending?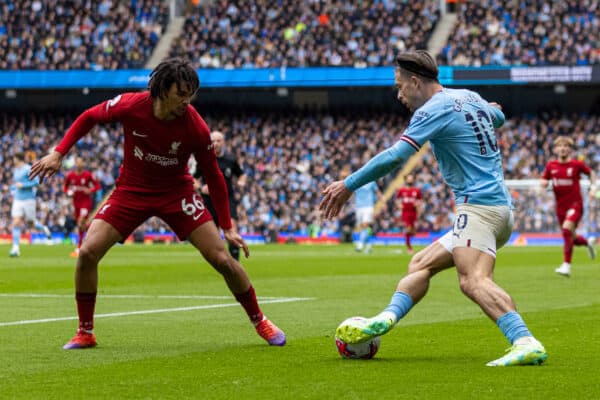 Ben: It's been a big concern all season. We didn't learn a lot yesterday.
There's individual complacency mixed with exposure in midfield.
Trent was shocking again – he's not even close to where we need him to be.
Adam: Completely agree. The cohesion has completely evaporated and the mistakes have been recurring ones, which should not be the case at this level.
The only explanation I can think of is that there is a complete lack of confidence between themselves and in each other.
These are good players, players who have won trophies and competed at the very highest level.
It is difficult to watch because you know what they are capable of.
I've defended Trent a lot this season, but the way in which he keeps switching off is a massive cause for concern. He looks miles off it.
Do any of the players come away from that with any credit?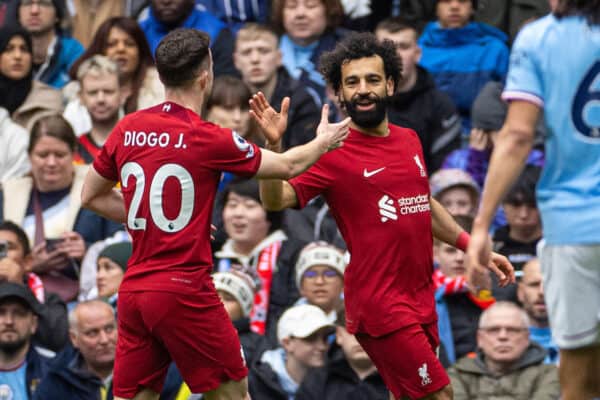 Ben: Alisson, again, made some good saves.
Salah was the best player on the pitch for the first half an hour. Outstanding finish.
As an aside to that, living in the Middle East at the moment I am seeing first-hand how difficult it is for Muslims to put their body through the demands of Ramadan.
The days are long – even longer in the UK at the moment – and not being able to drink water during the day must be so tough.
The fact that Salah (and all the other players in the league, of course) is strictly observing Ramadan while continuing to play at this level is nothing short of a miracle.
What an incredible player and person.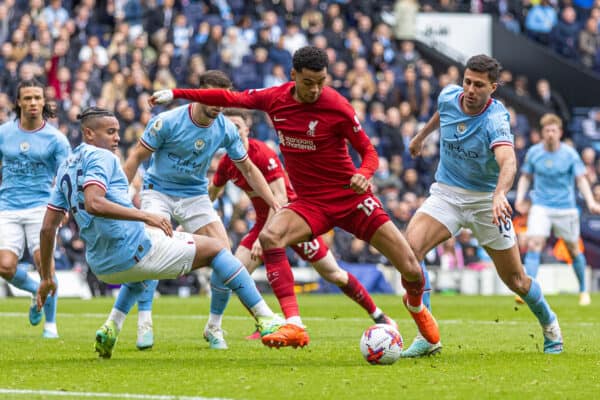 Adam: I quite liked what Cody Gakpo was doing in the No. 10 position.
I'm not sure any of them are worthy of too much credit based on that second half but I feel as though that role could be something worth exploring for him.
Harvey Elliott was perhaps a standout, but I'd say it was possibly just a case of him being the best of a bad bunch.
Finally, does that performance leave you with any hope of a top-four push?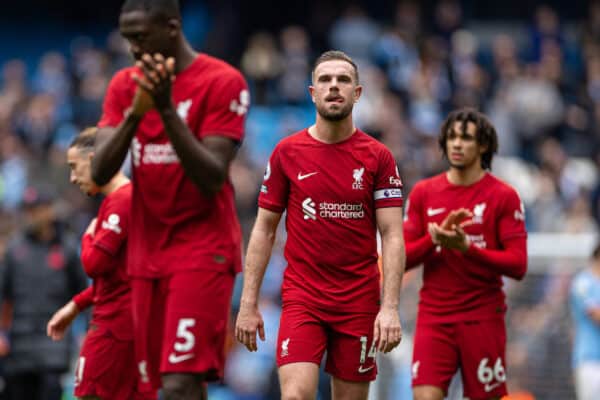 Adam: The manner of the defeat is disappointing but the picture hasn't changed a great deal.
Arsenal is possibly a must-win, and with the form Chelsea are in we need to be going into that believing we can get a result.
We do have a habit of finishing seasons strongly, something Jurgen Klopp alluded to in his pre-City press conference, and with 11 games to go we just need to remain hopeful that they are capable of producing that once again.
The worry this time is that, barring a few false dawns, we haven't looked like stringing a run together all season.
Ben: I don't think it makes too much of a difference. Chelsea and Arsenal were always the games we should've had more of an eye on.
Anything on Saturday would've been a bonus. If we take less than four points from the next two, it's done I think.
Big week ahead.