There was no shortage of talking points at Anfield as Liverpool came from two goals behind to earn a point against Arsenal on Sunday.
Liverpool had to battle back from two early setbacks to avoid a second home league defeat of the season, but a series of missed opportunities left a tinge of regret and a sense that there could have been more.
The 2-2 draw leaves the Reds 12 points adrift of Man United in fourth spot, meaning that almost all hope of Champions League qualification has now slipped away.
A number of incidents, not least Andy Robertson receiving an elbow to the face from linesman Constantine Hatzidakis, got fans talking after the match.
Robertson elbowed by linesman
In a bizarre sequence of events, the Scotland captain appeared to be elbowed in the face by the assistant referee as he remonstrated over a decision at the end of the first half.
It was the biggest discussion point of the weekend in football, let alone at Anfield, with many struggling to comprehend what they'd witnessed.
Mitrovic got banned for 8 games for touching a ref to try to speak to him and the PGMOL and FA asked for a longer ban. How long would a player get if he went up to a ref or linesman and elbowed him? What's even worse is Robbo was given a yellow so he had to play 2nd half at risk. https://t.co/fGCjIyweaX

— Red (@TaintlessRed) April 9, 2023
The assistant referee should get at least a 10 match ban, if it had been the other way round Robbo would be out the game for a long time. This man & the ref brought shame on the game https://t.co/Fbdt8df7mP

— The Fanzine Red All Over The Land (@TheFanzine1) April 10, 2023
Roy Keane saying Robbo is a "big baby," like he'd have been all chill if an official had elbowed him in the throat.

— And Could He Play (@andcouldheplay7) April 9, 2023
People saying Robbo touched the linesman first, if someone touches your arm in the pub do you elbow in the throat? I didn't think so, absolute nonsense.

— Rebekka (@rebekkarnold) April 9, 2023
In a parallel universe, it's Harry Kane who gets elbowed by the linesman and the English media call for the official to be given life in prison for the "attempted murder of our golden boy".

— Henry Jackson (@HenryJackson87) April 10, 2023
Why is Martin Tyler making jokes about the linesman throwing an elbow?

— Sam McGuire (@SamMcGuire90) April 9, 2023
PGMOL are now investigating the incident, with former referees expecting a lengthy ban.
Konate shines despite missed opportunity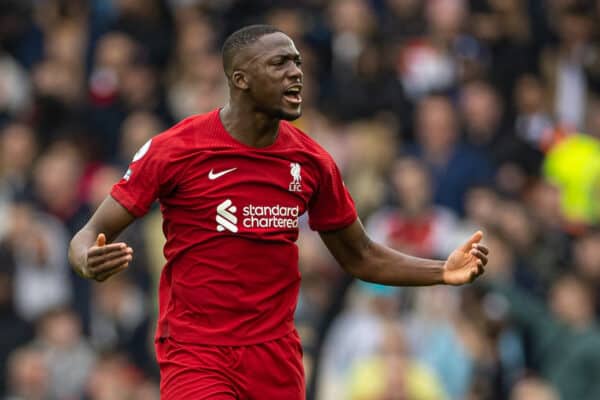 Ibrahima Konate missed a glorious chance to seal all three points in injury time, but was rightly praised by supporters for an otherwise flawless performance.
What a tackle that is from Konate. Kind of controlled aggression Liverpool need in this second half.

— James Pearce (@JamesPearceLFC) April 9, 2023
How boss was Konate today? ??

Deserved to get the winner at the end to cap off a proper performance ?

Steamrolling into this challenge on Xhaka would still have been the highlight though ?pic.twitter.com/uuEHRfL6zR

— The Redmen TV (@TheRedmenTV) April 9, 2023
Konate is phenomenal. Has a great future ahead of him ? #LIVARS pic.twitter.com/eRDxiFE9bO

— H (@TheLiverpoolEra) April 9, 2023
Ibou konate is absolutely sublime, can't praise him enough

— George (@GMcompss) April 9, 2023
Konate needs to be protected at all costs, levels above every defender in our team

— Zane?????? (@zanetalkssports) April 9, 2023
None of this Saliba nonsense, Konate is the best French CB in the world pic.twitter.com/qKwpWOo3Qe

— Braden ?? (@Braden_LFC) April 9, 2023
Trent in midfield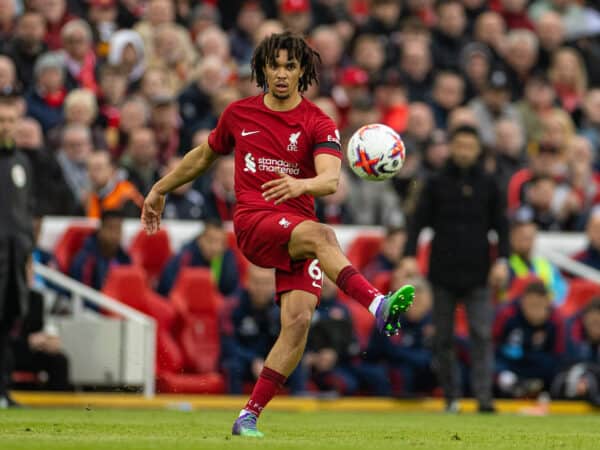 After plenty of calls to see Trent Alexander-Arnold play in a more advanced role, the manager duly obliged against Arsenal.
The 24-year-old was used in something Jurgen Klopp described as a "double six" with Fabinho, playing visibly further forward than we are used to seeing.
The move was greeted by a mixed response from supporters.
I don't understand what we're doing with Trent at all. He's just running around like a headless chicken. Not helped by midfield but there's absolutely no clarity on what the plan even is?

— Leanne Prescott (@_lfcleanne) April 9, 2023
Trent in midfield then eh!

— Marty Sikora (@marty_sikora) April 9, 2023
We've been slandering Trent but man was great today.

How about switching to Central midfield? I think he has qualities to thrive there.

— Ole Teya (@TeyaKevin) April 9, 2023
Konate is clearly the real deal, and trent in midfield has to be used again properly from now till end of the szn https://t.co/LEcQhsC3GD

— AB (@AbidxLFC) April 9, 2023
Asked Klopp about Trent's role. Said he'd played it before, but to me it's never been the way it was today.

LFC went to a back 3 when Trent moved into midfield in possession, meaning any counter was a 1v1 between Martinelli and Konate.https://t.co/z5o1MaHObg

— Matt Ladson (@mattladson) April 9, 2023
This Trent in midfield thing isn't working. At all.

— And Could He Play (@andcouldheplay7) April 9, 2023
Salah's last penalty?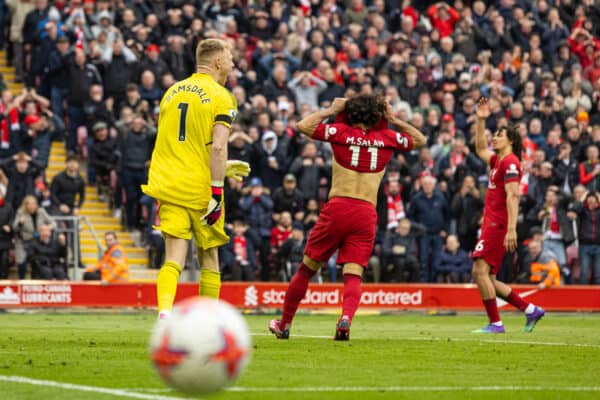 Liverpool were presented with a huge opportunity to draw level early in the second half after referee Paul Tierney awarded a penalty for a foul on Diogo Jota.
Mohamed Salah slid the spot-kick agonisingly wide, prompting Klopp to confess after the game that he and his staff will "talk about" removing the Egyptian from penalty duties.
It was Salah's fourth miss in his last 11 penalties, leaving fans questioning whether a new taker is needed.
Missed out on 3 points this season from Salah's two penalty misses pic.twitter.com/Isrndnxt13

— ???? (@UsmanIfc) April 9, 2023
Should Mohamed Salah still be on penalties after his two previous misses? ? pic.twitter.com/7OzNIcvmUv

— LFC Transfer Room (@LFCTransferRoom) April 9, 2023
Salah has missed 5 penalties for LFC. He's scored huge pressure pens for us and Egypt many a time. I think he should go back to using power and on target rather than trying to be too perfect. Thing is we have other v good pen takers like Fabinho & Milner. pic.twitter.com/pqbCCUR5Bg

— Red (@TaintlessRed) April 9, 2023
fabinho is on the field why is salah taking the penalty https://t.co/fgXrbRV2LK

— louise??? (@louisetatmaia) April 9, 2023
Xhaka riles up Anfield…again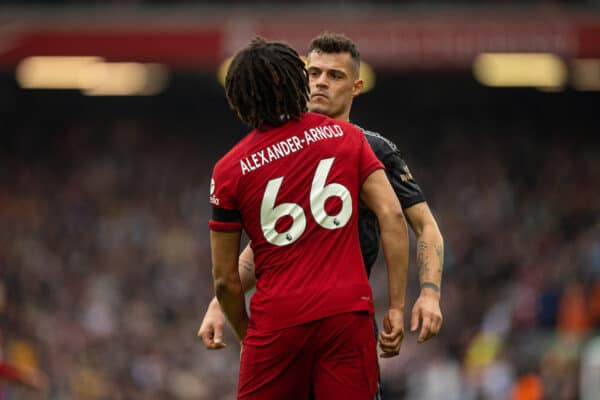 Arsenal appear to have not learned their lesson following Mikel Arteta's altercation with Klopp leading to a 4-0 thrashing last season.
Granit Xhaka clashed with Alexander-Arnold in the first half of Sunday's draw, prompting an angry response from the home supporters.
It certainly didn't do Liverpool any harm, with the Reds able to get back on terms after a dismal first 30 minutes.
Whatever you do, don't get the crowd up…

Granit Xhaka: pic.twitter.com/c2TfngeHdc

— LFC Mumble (@lfcmumble) April 10, 2023
Can actually pinpoint the moment Xhaka woke Anfield up. pic.twitter.com/g4tva7JwJS

— Sam McGuire (@SamMcGuire90) April 9, 2023
Xhaka spat with Trent ruined the game for Arsenal. They sucked the soul out of Anfield for 30 minutes. Never seen anything like it. That little feud energized the crowd and Liverpool dominated. Little things matter in big games.

— TBG (@PhilosophyTBG) April 9, 2023
Wild game. Arsenal brilliant for half an hour. Liverpool couldn't get near them, barely made a tackle. Champions elect. But then Xhaka acting up & all their play acting & time wasting -same as Arteta last year – made Anfield angry & after that the Reds so dominant should have won

— Neil Docking (@NeilDocking) April 9, 2023
#LIVARS was fantastic from start to finish!
The minute's silence was respected impeccably ??

Arsenal's football & composure in the first 30 mins was outstanding, but then Xhaka winds the crowd up ?

Liverpool, brilliant 2nd half & should win?

An elbow from the official?

— Jamie Carragher (@Carra23) April 9, 2023
When will they – and especially Xhaka – learn?!