Mohamed Salah's position as Liverpool's penalty taker has come under question after two consecutive misses, but where does he sit in the club's all-time list?
The Egyptian took on the responsibility as Liverpool's designated penalty taker in 2019, taking over the role from James Milner.
Throughout his time at Anfield, Salah has lined up for a penalty on 29 different occasions and has missed just five times – a conversion rate of 82.7 percent.
It just so happens that his last two misses came in the space of one month – against Bournemouth and Arsenal – and now questions are being asked about his future with spot kicks.
Salah is the club's fifth-most prolific player from the spot, behind only Steven Gerrard (47), Jan Molby (42), Phil Neal (38) and Billy Liddell (34).
Milner, meanwhile, is eighth with 19 successful conversions during his time at Anfield.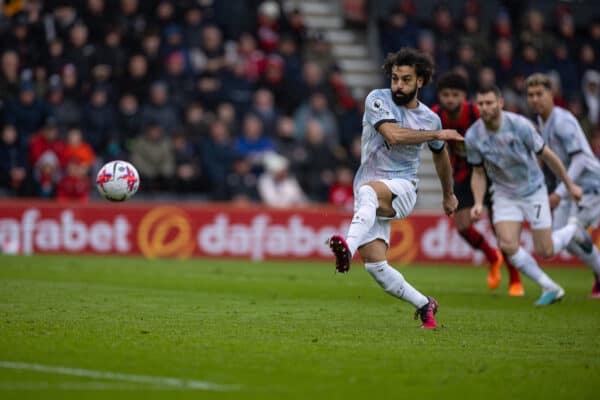 Salah has scored 24 pens and missed 5 for LFC
Is fifth in the club's all-time penalty list
With both of Salah's recent misses denying the chance for Liverpool to change the outcome of the match, it is not odd for Salah to have come under review, Jurgen Klopp admitted as much.
"That's something we will talk about, but not here," Klopp acknowledged when asked if he would consider taking Salah off penalty duty after the draw against Arsenal.
It is a part of the game that Salah conceded he does not quite relish, telling Steven Gerrard in an LFCTV video, "I always hate the pens, I don't like the feeling."
The 30-year-old does have a unique approach and some fans may tell you they have never quite felt 100 percent confident with Salah over the ball, but he does appear to have changed his approach.
Powerful strikes traded for more purposeful ball placement, but his last two attempts at the latter have seen him miss the target entirely (both to the goalkeeper's right).
Between October 2017, starting at Huddersfield, Salah scored 17 penalties in a row in all competitions until the run came to an end in 2021.
When Liverpool do not get awarded penalties with great frequency, there is added pressure to convert and if there was to be a change, Fabinho or Darwin Nunez would be in contention.