Jurgen Klopp provided good news on the recovery of both Thiago and Luis Diaz, but ruled the pair out for the trip to Chelsea on Tuesday night.
When Diaz made his return to team training last week, the hope was that he could take a spot on the bench against Man City.
That did not transpire, with Klopp urging a cautious approach over the return of a player who has been out since October, and that has not changed this week.
Speaking in his pre-match press conference ahead of Chelsea vs. Liverpool, the manager confirmed that Diaz would not be in the squad.
"Luis Diaz, no he's not available but he's in training," he told reporters.
"He's not ready for this game, but as much as we want to have him back, we have to give him time.
"It's long ago that he had the initial injury, but when he came back to training in Dubai it looked outstanding – until he got injured again.
"We have to make sure that we are patient in that moment."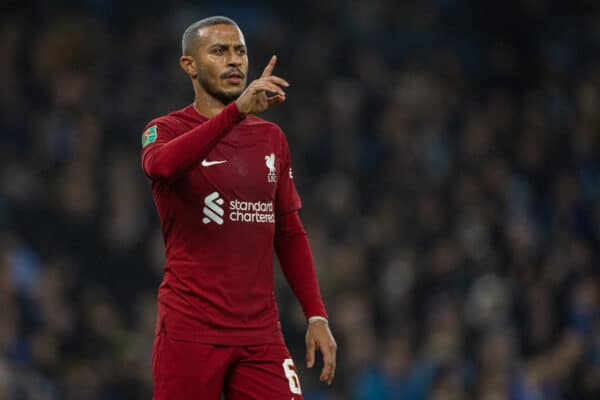 Klopp did give positive news on Thiago, though, with the Spaniard now back in full training after a long-term hip injury.
As he continued, he suggested that both Diaz and Thiago would be in contention for the trip to Leeds on April 17 – if not the visit of Arsenal this Sunday.
"So this week, I wouldn't say Arsenal is completely out of the picture, but it's rather unlikely," he explained.
"After that then Luis will be back.
"We had Thiago yesterday in normal team training which is good as well – but he's not available for tomorrow, of course – so we will see how he reacts."