Ranel Young was the super sub for Liverpool under-18s, scoring twice and setting up his teammate all in the space of 10 minutes in a convincing 4-0 win at Newcastle.
Newcastle U18s 0-4 Liverpool U18s
U18 Premier League, NUFC Academy
April 11, 2023
Goals: Danns 37′, Young 74′, 84′, Onanuga 76′
---
While Jurgen Klopp's first team are in the midst of their eight-day wait until their next game at Leeds, the under-18s concluded their 10-day break on Tuesday morning with a trip to Newcastle.
Marc Bridge-Wilkinson made four changes to the side that secured a 3-0 victory over Wolves last time out, which included a goalkeeper shuffle.
Luke Hewitson replaced Fabian Mrozek in the XI and there was a place on the bench for Kornel Misciur, who joined the club from Hull in March.
There was little for Hewitson to do throughout the first half, though, as the young Reds dominated territory and possession, getting their reward eight minutes before the break.
James McConnell was the provider from the corner flag, with Jayden Danns brilliantly following the ball's path to head across the goal for a 1-0 lead and his sixth strike of the season.
HT: Newcastle U18s 0-1 Liverpool U18s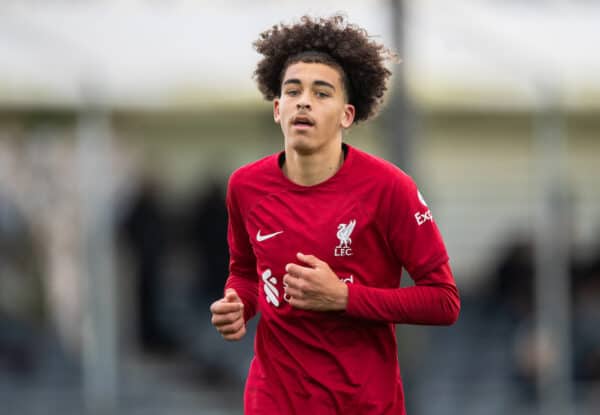 A lively start to the second half saw the offside flag deny Lewis Koumas a goal as Liverpool searched for an all-important buffer, with a plethora of chances following without reward.
But it turns out all that was needed was the magic touch of Young to break the dam wall.
The 17-year-old scored with his first touch after guiding Koumas' pass into the bottom corner, having been introduced off the bench merely seconds before.
Just minutes later his work inside the box set up U16s player Afolami Onanuga, who scored his first at U18s level with an emphatic left-foot finish, before Young scored his second with a thunderous hit from close range.
A convincing 4-0 win for the young Reds, who host bottom-of-the-table Leeds on Friday evening.
---
Liverpool U18s: Hewitson; Davidson, Gyimah, Pitt, Samuels; McConnell, Onanuga, Kelly (Gift 85′); Danns (Pennington 81′), Figueroa (Young 74′), Koumas
Subs not used: Miscuir, Hayes-Green
Next match: Leeds (H) – U18 Premier League – Friday, April 14, 7pm (BST)