Liverpool put in a second comedic performance of the past few days at Chelsea, yet somehow – by fortune, Alisson Becker and VAR – managed to keep a clean sheet and earn a point.
Chelsea 0-0 Liverpool
Premier League, Stamford Bridge
Tuesday 4 April 2023
---
A wild looking lineup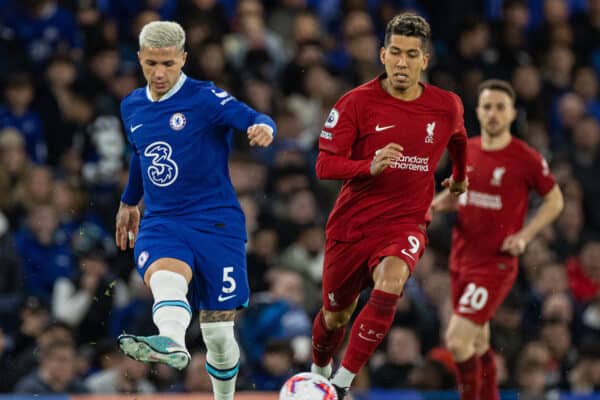 Prior to the match, Jurgen Klopp spoke of his dissatisfaction at the hammering by Man City and the performances within it, intimating there was scope, perhaps need, for alterations.
"We have opportunities to change and we have to change. We cannot just close our eyes and do the same again and again," Klopp told Sky Sports.
"This situation also means the door is miles open for everybody to get into the team because there's only two or three [players] that have pretty much their spot safe. The boys know that, that's one thing I've told them.
As such, there cannot be many surprised faces in the dressing room at the number of alterations: Alisson, Konate, Fabinho, Henderson and Jota were the quintet to keep their places from the Etihad debacle, while switches at full-back, centre-back, midfield and attack saw forgotten faces Kostas Tsimikas, Joe Gomez, Joel Matip, Bobby Firmino and Curtis Jones, of all people, coming into the side.
The reaction required was presumably effort, energy and a bit more intent – but equally presumably, cohesion wasn't expected of the group; for a team who couldn't hold a line a few days ago with regular faces in it, this new mixture was all over the place in the opening stages and could have been three down in ten minutes due purely to big gaps and no markers in place on simple through balls.
If the gauntlet was laid down to the irregulars to stake a claim, it would have to come as a result of individual effort and technical output – and not too many could realistically hold their hand up and say they passed the test there.
Underperformers on an already poor night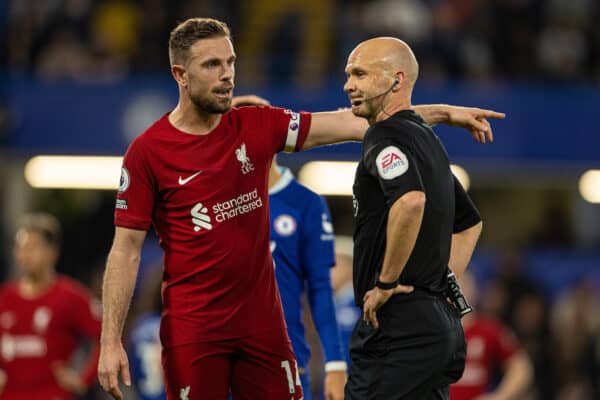 Where to begin, then? The defensive unit was, well, not one. It was all over the place, even if it did improve marginally as the night went on in those terms.
But Tsimikas was wretched in both halves of the pitch, underlined by being one of the first off just past the hour mark, while on the opposite side Gomez was at best hit and mostly miss.
Neither centre-back can claim to have had a fine outing, both making some last-ditch recoveries but also both being utterly turned inside out and leaving runners in acres of space, while ahead of them, nobody in midfield offered any semblance of control, poise, composure on the ball or defensive resilience.
This was genuinely a battle to pick out positives in any area for the first hour of the game and few can seriously claim to have pushed their case to start at Anfield against Arsenal.
Where's the attack gone?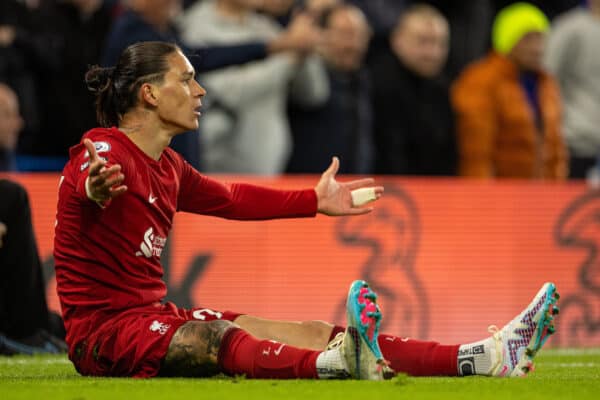 Right, let's set aside the manner of goals for a moment. After all, we scored one against City and got trounced, while Chelsea could and should have had three here in ten minutes, such are the small margins between finishing, winning and generally looking like wasteful berks.
But what about chance creation? Cohesive attacking play? Having an actual approach?
It all seems to have completely disappeared, the idea of how to buildup disintegrated, the very notion of being a side which attacks a mere theory which others may adhere to, but has no relevance in red.
In general, considering we've not been winning games, the non-watcher might have expected Liverpool to be, as they say having a go in the latter stages of games.
Not so.
Jurgen and his not so wily men mustered one shot in the second half against Real, another one after the break against City and just the one here again following the break.
This cannot be a taken as a criticism of the forwards either, despite the fact the starting trio were largely lifeless and ineffective, but as an overall reproach of the team set-up.
Liverpool used to press high effectively; we don't now. We used to have fluid interplay between the front thre; we don't. We used to have a set-piece threat; we don't. We used to have full-backs creating by deep crosses and short cut-backs – the starters completed one cross between them.
Dismal, desperate, disastrous.
Bench boost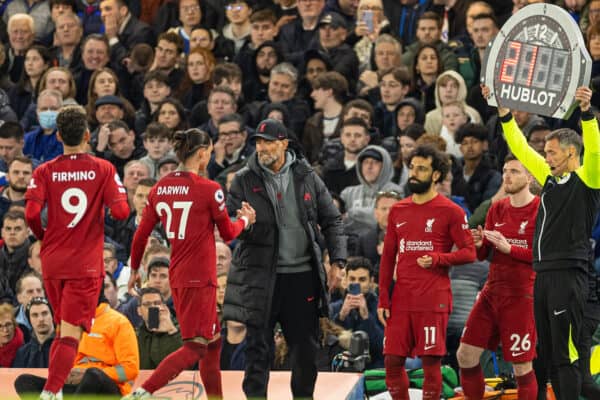 So, changes are one thing. But the subs are still there to be used and it was much-discussed how those who came on vs Man City actually contrived to make the team worse, if anything: the four who came on in the big roll of the dice managed fewer than 30 touches between them in around 25 minutes.
This time it was two double subs: Mo Salah and Andy Robertson on first, then James Milner and Cody Gakpo, all on for those unfamiliar starters who had no doubt started to feel the pace of the game.
We'll sum up their collective efforts nice and quickly: nothing.
That done, the question turns to Jurgen Klopp and his coaches. Why are the subs not impacting?
Is it down to a lack of ability to motivate, or unclear tactical instruction? Is it an acceptance from the players that they'll just be back in the lineup anyway, even after one game of all-change?
The boss spent most of this game livid, frustrated and raging on the touchline, at Henderson, at Matip, later at Mo – at everyone really, after not adhering to the job at hand. The problem is, it's not that clear what the job at hand is right now, on or off the ball – as nobody appears to do much of anything.
Onto Arsenal and is there anything left?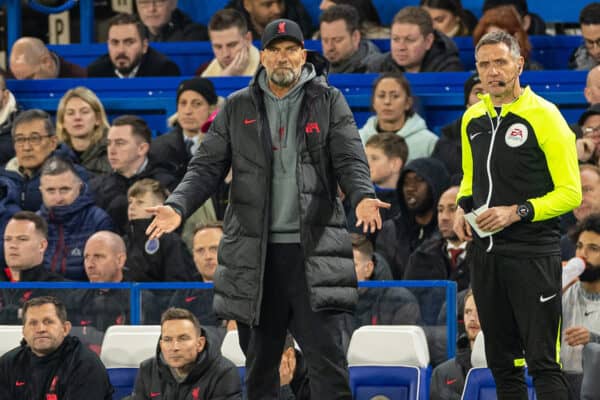 Come the end of the weekend, Liverpool will almost certainly know whether the top four is still a possibility or a pipe dream.
No points from City away wasn't a disaster; one point from here is an opportunity wasted, given how bad Chelsea have also been – and the fact they have no manager.
Yet four points from City, Chelsea and Arsenal would be…par, let's say, if not outright good. Anything less and the season is an irrelevance at this stage.
Liverpool have been left clinging onto the vague premise of being better in the bigger games this term; the last few days have knocked that theory on the head.
Beat Arsenal at home, and convincingly, or there can be no facade left pretending an absolute overhaul isn't required.
Perhaps that would be for the best, in the eyes of some.