Liverpool's reported decision to pull out of the running for Jude Bellingham is said to be due to the finances involved, with a new price tag set.
According to journalists on Merseyside, Liverpool are no longer pursuing a deal for their priority midfield target – one whom they have courted for years.
A move for Bellingham is off the table, it is claimed, with Jurgen Klopp in agreement that a potential transfer would not make financial sense.
It has been argued, of course, that the Reds have long known that signing the 19-year-old would require a likely club-record fee, with any deal expected to exceed £100 million.
But reports in Germany have suggested that interest from elsewhere has shifted the goalposts significantly.
SPORT1 journalist Patrick Berger claims that Liverpool are "out of the race as they can't meet the €150 million price demand," with Klopp knowing he has "a lot to fix this summer."
"Liverpool can theoretically afford the €150 million," Berger adds, "but they rather want to spend the money for two or three midfielders than for just one."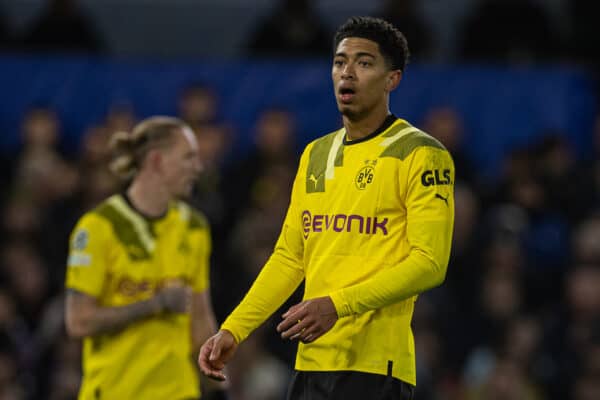 A €150 million price tag would convert to around £132 million which, as explained by Sky Germany's Florian Plettenberg, is a fee "driven up" by Man City and Real Madrid.
"Been told that Real Madrid and Man City have driven the price up exorbitantly," Plettenberg wrote on Twitter.
"From the point of view of the Liverpool bosses the total package was rated too high for his age."
That, according to Plettenberg, is due to not only the transfer fee, but also the salary package that Bellingham and his camp would demand.
The notion that it is "too high for his age" may be confusing, as spending £132 million on a generational teenager already proven at the top level would seem more sensible than doing so for a player in his mid-20s.
But that is likely referring to the prospect of an elite-level wage, too, with that only setting the precedent for future contracts.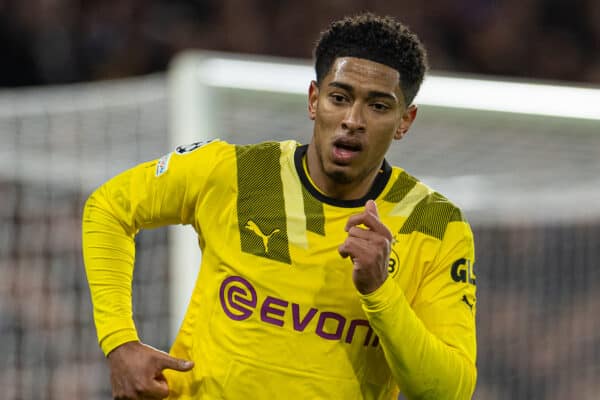 If Bellingham were to agree a contract worth £200,000 a week at 19, for example, that would rise considerably when he signed his next deal.
That is all hypothetical, of course, and it is still not entirely out of the question that Liverpool are using this development as a negotiation tactic – particularly if the player has his heart set on Anfield.
When it comes to Dortmund, though, they will be eager to receive the highest fee possible for a midfielder they have nurtured to prominence.
From their perspective, if that means further strengthening Man City or Real Madrid – who Plettenberg claims are now "favourites" – then so be it.