Those all too familiar and glaring 2022/23 vulnerabilities and insecurities were on display by Liverpool once again on Sunday against Arsenal.
Liverpool surrendered two avoidable goals in the first half, but instead of rolling over, they provided a window on what has far too often laid dormant this season.
Presumed dead and buried by some, Jurgen Klopp's dynamic version of Liverpool is still there, lurking in stasis just below the surface.
But from the moment Trent Alexander-Arnold and Granit Xhaka exchanged unpleasantries four minutes prior to the interval, they were roused enough to prove and gain a point from a game they should have won by the end.
An Anfield "energiser"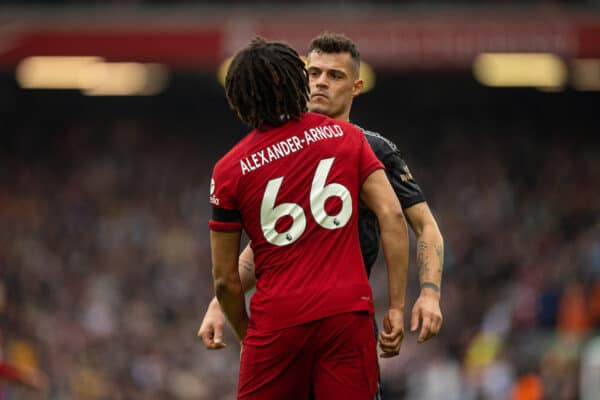 Klopp's Liverpool thrives on passion play, and that burning desire and remorseless drive that has taken them to virtually every honour available across the last four years.
These elements have been missing so often this season – the reasons being wide open to interpretation.
Mohamed Salah's goal for 2-1 energised us, a double springboard on the back of Alexander-Arnold's difference of opinion with Xhaka having lit the touchpaper.
It was an event that subsequently fired up a subdued Anfield, which then went on to summon up that wild voodoo that it is capable of.
A game of signposts or stepping stones, Salah's second-half penalty miss provoked a bit of a lull in proceedings, and a semi-muted anxiety in the crowd.
Yet rather than giving in to frustration, Liverpool persevered and prevailed in taking something tangible from the afternoon.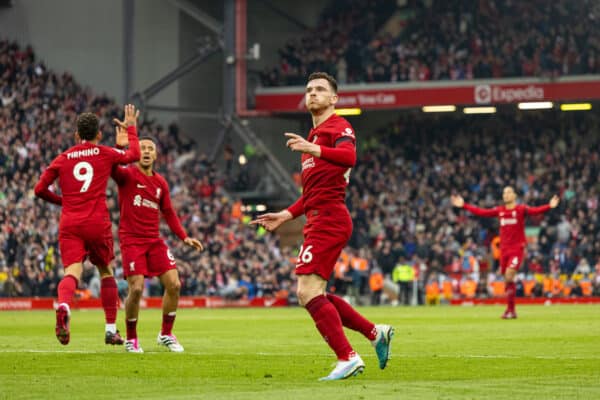 It is a point that won't necessarily be of value in terms of a largely hopeless chase for a Champions League spot – that is surely beyond us, with the distance from the top four being 12 points with only nine games to play and still no guarantee of consistency being accrued.
It can, however, play a big part in the potential mental rehabilitation of Liverpool and a confirmation that we are only as good or bad as we choose to be.
The good, the bad and the ugly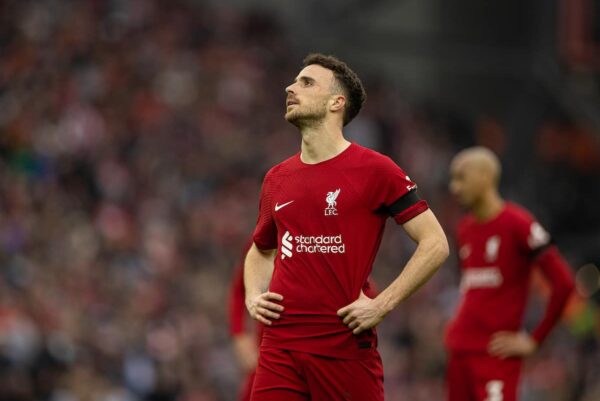 We embraced both ends of the good-to-bad spectrum in this one.
Generous in the conceding of goals, determined and at times excellent with the ball in our pursuit of clawing our way back into it.
Even in between the two goals that Arsenal scored, we were never as bad as the narrative would have you believe, with Andy Robertson guilty of spurning a compelling opportunity to square the game at 1-1.
It was a busy afternoon for Robertson, his slip playing a pivotal part in Arsenal's opener.
He put an effort wide of Aaron Ramsdale's far post rather than hitting the target or forcing a save; he was surreally elbowed by the linesman after the half-time whistle; and he popped up all over the pitch throughout, even occupying right-back for a while.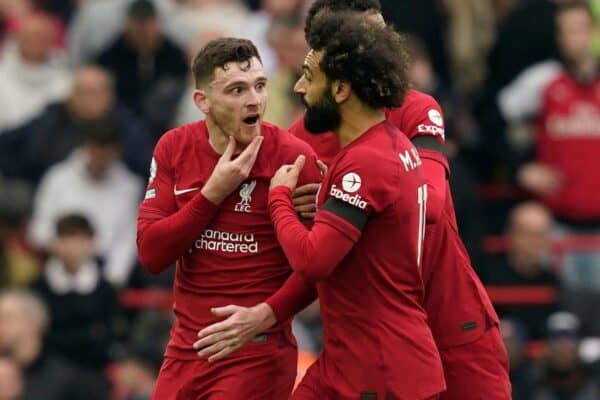 Salah was both hero and anti-hero with his goal, penalty miss and late curling effort that was denied by Ramsdale.
It was part of a trio of late saves by the Arsenal goalkeeper, on a day when Mikel Arteta's collective of talented yet hypochondriac-leaning players took a leaf out of the Newcastle book of time-wasting techniques.
This was a game where Liverpool had to fight for everything they gained, against a team that is riding the crest of a wave.
Arsenal are in a situation where things can often go your way much more easily than they do when you're struggling to put one foot in front of the other, as we are.
The opening goal of the game was the perfect example of this, with the slip of Robertson and the bounce of the ball off Virgil van Dijk landing sweetly for Gabriel Martinelli.
Life in the old dog yet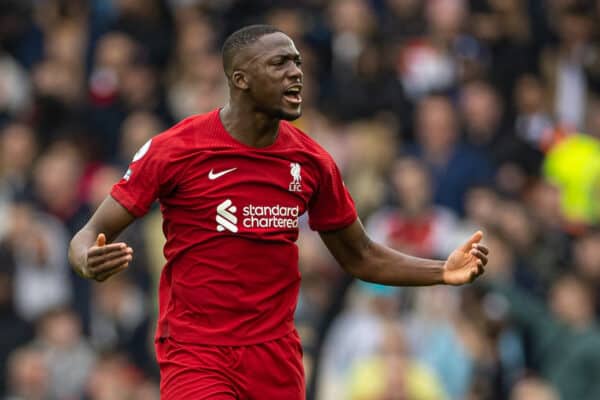 The true capabilities we have, that lie beneath a veneer of dysfunctionality, bubbled to the surface, however.
Alexander-Arnold was part of the cause and effect of Arsenal's second goal, yet he laid on the equaliser and was a key element in igniting Anfield with his clash with Xhaka.
He was both magnificent and hung out to dry.
Others did a fine job on the periphery of the game. Curtis Jones, Fabinho and Jordan Henderson seemed invisible at times, yet popped up with huge contributions too.
Jones and Henderson's roles in Liverpool's first goal were massive.
Ibrahima Konate was wonderful, despite our vulnerabilities in defence, and he should have won us the game at the death.
Meanwhile, his earning of a penalty aside, Diogo Jota remained something of an apparition, as did Cody Gakpo.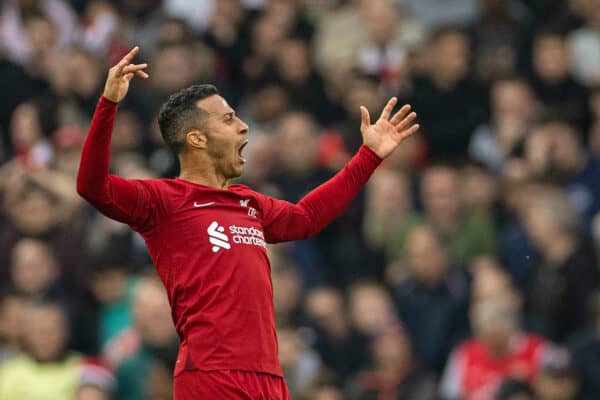 For Liverpool at this point, it's all about working our way out of the victim complex we find ourselves in, and Bobby Firmino's equaliser and Thiago's half-hour cameo will be crucial in this.
Throw them both in at Elland Road next week, bring in the esoteric and outlandish, find the joy, replicate the passion.
Love the ball and it will love you back; fear the ball and it will punish you.
Although it can be, it isn't all that simple, though. Not in this most peculiar of seasons, as we proved when following the 7-0 demolition of Man United with defeat at Bournemouth.
What mirages like the win against Man United and the comeback against Arsenal show is that Liverpool can still hit the accelerator when the switch is flicked.
But the trick for them is being able to keep their foot on the floor for a consistent spell.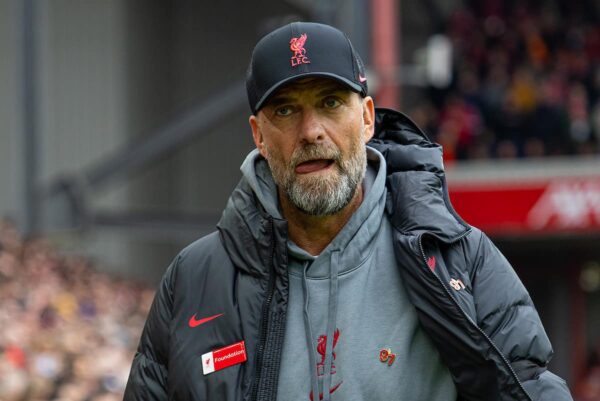 It would be very Liverpool 2022/23 of us to stall against the team that has just conceded five to Roy Hodgson-led opponents, having just swung punches in the centre of the ring with Arteta's widely-admired champions-elect.
This was a game that could have been won or lost in injury time, but more importantly, it's the aura of the fightback of Klopp's team which suggests that.
Although it now means Liverpool have only taken two points from their last four Premier League outings, there is still life in the old dog yet.