Liverpool's pre-season plans will take them back to Southeast Asia, this time for a one-stop friendly tournament.
The Reds travelled to Asia last summer, stopping in Bangkok and Singapore, and this time around were anticipated to return to the USA.
Late last month, though, Liverpool journalist David Lynch reported via Football Insider that the club will instead head back to Asia for a "one-stop tour."
Singapore was deemed the most likely destination and an outlet in the region, The Straits Times, has now confirmed the report and stated that the Reds "will feature in a friendly tournament."
They list the likes of Tottenham, Bayern Munich and Roma as potential opponents in the tournament, with all expected to venture to Asia throughout the summer.
That would, of course, set Liverpool on course to reunite with Sadio Mane, after his move to Bayern last summer.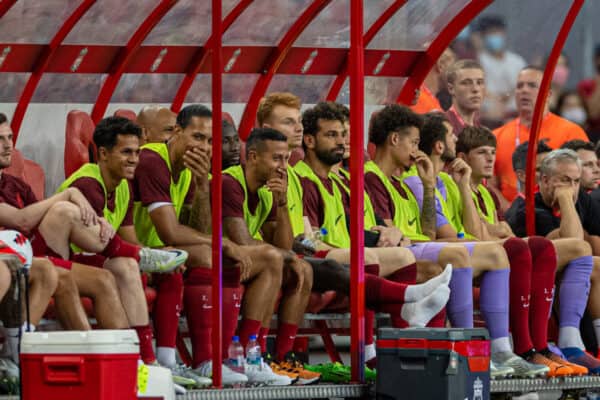 Man City are also travelling east with plans to stop in Japan and Thailand and, therefore, could also be considered as a potential opponent in the summer.
The Straits Times goes on to say that the 'friendly tournament' will "not be part of the International Champions Cup," which Liverpool were expected to be involved with in 2020 alongside Borussia Dortmund and Man United.
The one-stop tour will enable Liverpool to maintain some continuity in their training and preparations for the 2023/24 campaign, having felt the ill effects heading into the current campaign.
Jurgen Klopp admitted that it was a mistake to head to Asia so early into pre-season last year and this time around it will be pushed further back in the summer schedule.
A training camp in Europe, likely in Austria or France, is also expected to be part of the plans once more, in what is a hugely significant summer for the club on and off the field.