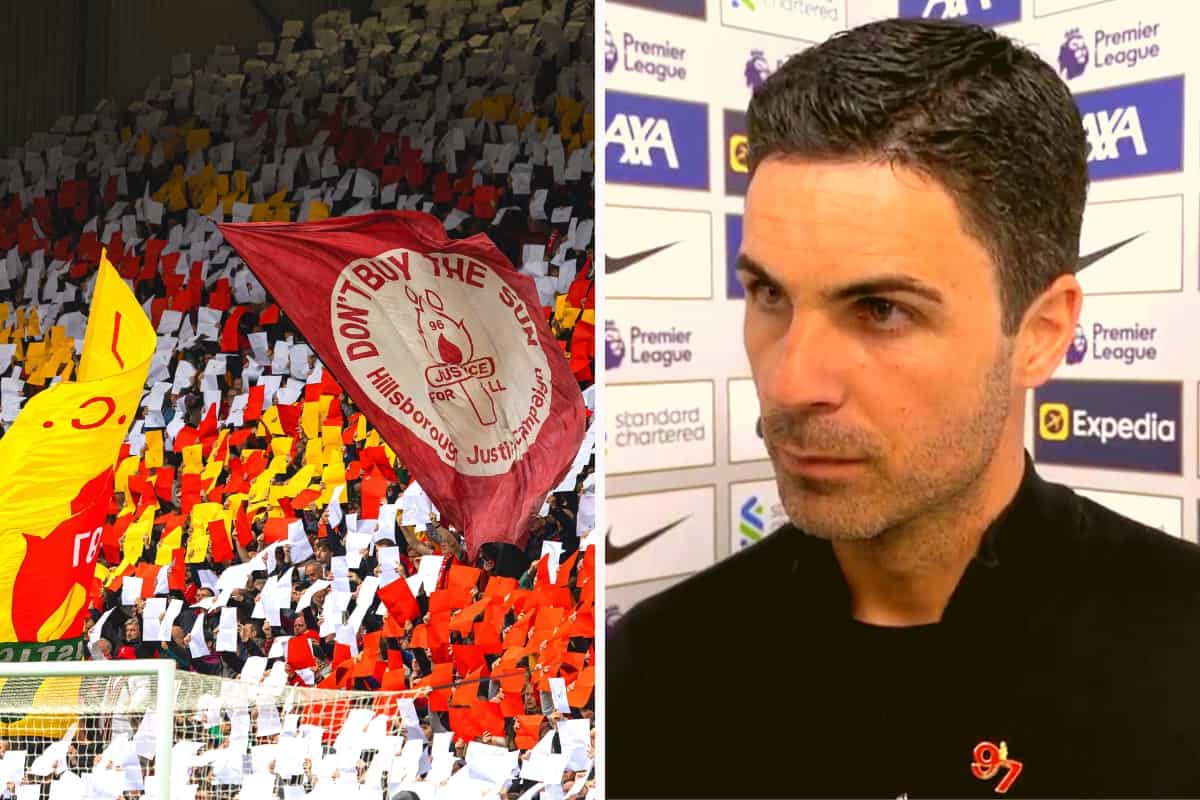 As Liverpool marked the 34th anniversary of Hillsborough around their Premier League meeting with Arsenal, the visitors showed "class" in response.
The buildup to Sunday's clash with Arsenal saw Jurgen Klopp use his programme notes to call for the end of tragedy chanting in football.
"This needs to stop," the manager said, with his comments timely given Man City and Chelsea supporters in their thousands had chanted about Hillsborough in the previous two games.
With Arsenal heading to Anfield around the 34th anniversary of the disaster, then, there could have been concern over disruption.
But as explained by the Times' Henry Winter, Liverpool were left "moved" by the level of respect shown by the London club, their fans, players and manager.
Mikel Arteta and captain Martin Odegaard lay wreaths at the Hillsborough Memorial the day before the game, with the manager wearing a '97' badge in his pre-match interviews.
Thank you, @Arsenal, class costs nothing.

— This Is Anfield (@thisisanfield) April 9, 2023
A minute's silence was then observed impeccably, with no echoes of the interruptions from Man City supporters before the FA Cup semi-final at Wembley this time last year.
"Arsenal didn't win at Anfield but they won a lot of friends at Liverpool for the class, dignity and respect they and their fans showed around the Hillsborough commemorations," Winter wrote on Twitter.
"Liverpool were moved by Arteta and Odegaard laying wreaths and Arteta and staff members wearing '97' badges and the 3,000 Arsenal fans observed the minute's silence impeccably.
"Given the problems in the game around tragedy chanting [at the moment], Arsenal fans' respectful behaviour could not have been more timely."
This sentiment was shared by a number of Liverpool fans, including the Hillsborough Survivors Support Alliance group:
Just watched a match where the respect from @Arsenal from the minutes silence, their manager wearing the 97 badge and the fans throughout was exemplary. Good luck for the rest of the season and thank you for restoring our faith ?

— Hillsborough Survivors Support Alliance ( H.S.A.) (@HillsboroughSu1) April 9, 2023
Minute's silence impeccably observed by all at Anfield today and not an abhorrent chant to be heard ??? and a cracking game too #JFT97

— Joe Blott (@JoeblottJoe) April 9, 2023
Arsenal fans were class with the minute silence today and no songs about Hillsborough from what i could hear. I should not have to point this out but after recent events with Utd city and Chelsea I will do.

— ? Swifty ?? (@andrew_m_swift) April 9, 2023
Credit to Arsenal fans. Not one person could be heard in the minute silence, no sign on chants or always the victims chants. Fair play to them.

— Jay (@__JS98) April 9, 2023
What a cracking game of football!
One of the best games of the season!
And not a hate chant to be heard ???

— Charl Hennessy #JFT97 (@charlhennessy1) April 9, 2023
Shouldn't really have to commend away fans for not being hateful etc, but the arsenal fans were spot on today. Completely silent through the minute silence and no offensive songs/ chanting. Fair play.

— Abigail Rudkin (@rudkin_abigail) April 9, 2023
Well done to Arsenal fans for their absolute silence for the Hillsborough remembrance @GoonerGirl1969

— Jonatan Sala (@JonatanSala1892) April 9, 2023
Gotta show love for Arsenal. Visited Hillsborough memorial, fans silent during the minutes silence.

A club that built naturally without billions from rich owners, developing youngsters & giving them a chance. They'll be worthy winners if they win the league this year #LIVARS

— Lee Mills (@LeeMills5928374) April 9, 2023
Know why I like playing Arsenal? Their fans chant about Arsenal and their players. They were silent during the Hillsborough silence, and I didn't hear any "sign on" or "always the victims." Respect to them all #afc #lfc

— Jamie S (@JamieLFC1981) April 9, 2023
You'll Never Walk Alone.