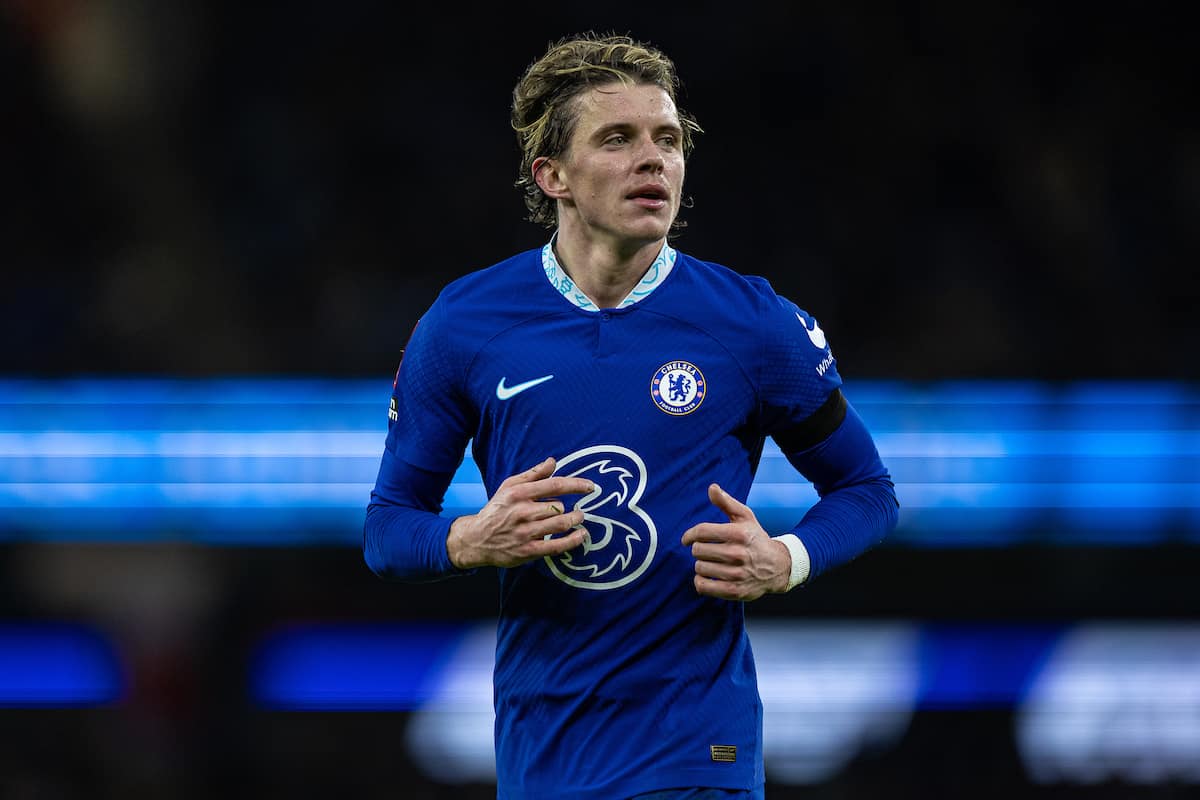 Chelsea midfielder Conor Gallagher has emerged as a surprise transfer target for Liverpool, with supporters left divided by the rumours.
As Jurgen Klopp plots the rebuild of his midfield in the summer transfer window, the likes of Jude Bellingham, Mason Mount and Matheus Nunes are being pursued.
But the Independent's Miguel Delaney – later corroborated by the Liverpool Echo's Ian Doyle – has now claimed that Gallagher is also one of the Reds' options.
The 23-year-old ticks a lot of boxes for Liverpool, as young, homegrown, versatile and industrious, while Chelsea's bloated squad and need to raise funds this summer makes him a viable candidate.
However, the news of interest in the England international has left fans torn.
Many Liverpool fans see sense in the interest…
I actually like Conor Gallagher. I think he could be really good in a Liverpool midfield.

— Motolani Alake (@OneMotolani) April 2, 2023
People don't rate Conor Gallagher, just wait.

He'll become a consistent midfielder in our squad easily.

— zepa (@lfcZEPA) April 2, 2023
I might get killed for this but Conor Gallagher for LFC is a good signing. He fits the profile of a Klopp player. Also a cheaper alternative to Mount.

— TrentisWC (@HasanBasharat1) April 2, 2023
Credible Conor Gallagher links emerging. I can see likes of him & Gravenberch being brought in along with a bigger money signing. Young players with potential whose careers have stagnated, similar to Sturridge when he joined. Will underwhelm many, but could be masterstrokes?????

— Iver Hanrahan (@IverHanrahanGP) April 2, 2023
Don't get the moans about us being linked with Conor Gallagher. When he was playing regularly at Palace he was excellent: high energy, great presser, ability to drive forward with the ball & break lines. He was often the spark for Palace. Very much a Klopp player.

— Susan Stirrup ??? (@Nasustir) April 2, 2023
Am i the only one who wouldn't mind if we sign Conor Gallagher?

Think a lot of people forget that he won't be starting week in, week out. Has bags of energy and will be good for squad depth.

Definitely an upgrade on Arthur, Milner, Ox and Keita. #LFC

— Dan (@LFCDanFPL) April 2, 2023
Conor Gallagher makes sense if he's like our 4th midfield signing & isn't going to cost the money that was spread back in January.

It would be nice to have him out of possession but I don't think anyone is convinced if he'd be an ideal starter for a top 4 club in possession.

— Rithwik Rajendran (@rithwikrajendra) April 2, 2023
But others are concerned about the new links…
Conor Gallagher isn't good enough for Liverpool.

But, he's very much the type of player I could see Klopp wanting. A fella who runs lots, is poor defensively and doesn't offer much on the ball.

Jurgen does have a type.

— Dave Hendrick (@MrTwoFooted) April 2, 2023
Conor Gallagher to Liverpool…. pic.twitter.com/4TWEWEbMnH

— Mohamed Noor (@MohamedHN_) April 2, 2023
I like Conor Gallagher and have wanted him in the past, but he doesn't address the lack of control issue we have in the midfield, if anything he suggests Klopp wants more chaotic-ness

— Danny Corcoran (@calcio_danny) April 2, 2023
I don't want Klopp or Lijnders anywhere near new signings. I want that to be the new 'Edwards' job.

Rumours of Klopp identifying Gallagher, new contract for Milner, was pushing for a new deal for Bobby. Is this really what we want???

— Apotheosis of Anhedonia (@keswickbro) April 2, 2023
Mount, Nunes and Gallagher… this is the definition of mid table signings we are absolutely fucked if this is what Klopp actually wants https://t.co/zZDZ4hPmIM

— Pierre?? (@LFCPierre) April 2, 2023
Meanwhile, Chelsea fans seem unanimous on their No. 23 as not-so-super sub…
It's not a Chelsea game under potter without seeing Gallagher on the pitch

— Harris (@HH_comps) April 1, 2023
Im all for Potter staying but if he brings on one of Mount or Gallagher…

— BCT (@badcfctakes) April 1, 2023
Can't wait for the 60th minute when I see potter bring on Gallagher for felix.

— AdamAce12??(Chelsea have won it all!) (@Ace12Adam) April 1, 2023
By 60 or 70 minutes, Potter is going to introduce Gallagher ??

— Have faith? (@JuanHeart2016) April 1, 2023
Gallagher subbed on whilst we're 2-0 down? Taxi for Potter.

— CFC Joe (@ExpertEnzo) April 1, 2023
We're down 2-0 and you're gonna bring on Gallagher? Ffs Potter

— iva (@mountsworld) April 1, 2023
Potter shouldn't try that Gallagher rubbish this 2nd half

— Rambo (@dibiahh) April 1, 2023
Sack Potter now! And let him take his super sub Gallagher with him on his way out of Chelsea. What a joke man pic.twitter.com/EvHhCfkwAq

— OYE?WA?LE? (@Joos_only) April 2, 2023
---
Gallagher is clearly not a popular player among many Chelsea fans, who view him as symbolic of Graham Potter's limp spell in charge so far.
But the verdict within the Liverpool support is more optimistic, as despite some supporters being wary of a potential move for the Englishman, others see him as perfect for Klopp's system.
Of course, it remains to be seen whether the Reds will pursue him as an active target, but interest in Gallagher is worth keeping an eye on.