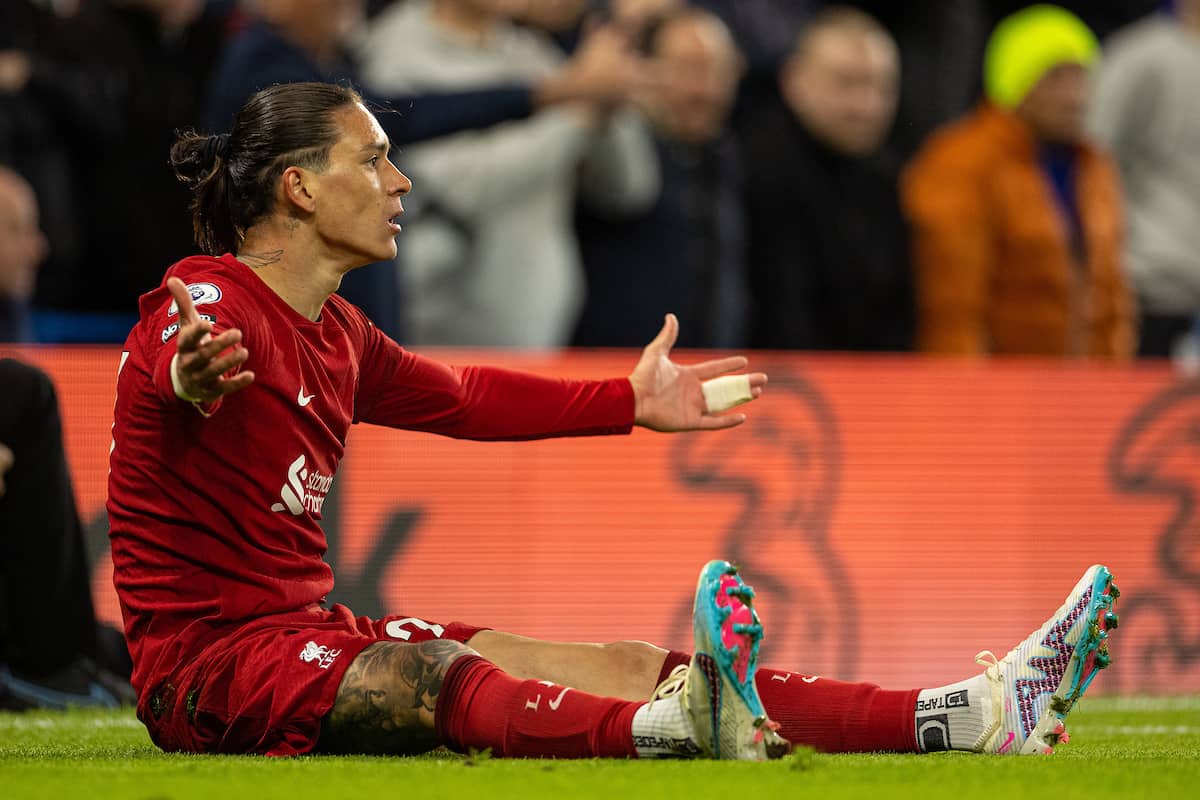 Liverpool supporters were again left disappointed as the Reds failed to take advantage of Chelsea's poor form, only managing a 0-0 draw.
While Liverpool did avoid a fourth consecutive defeat, the travelling fans were still subject to another stale performance as the Reds failed to create any real goalscoring opportunities.
Excluding penalty shootouts, it has now been over 445 minutes since a goal was scored in this fixture.
Here's how Liverpool supporters reacted to the 0-0 draw against Chelsea.
It was more of the same from Liverpool…
We've had 1 shot in the second half. Same as vs Man City and Real Madrid. Another worrying trend.

— LFC Stats (@LFCData) April 4, 2023
Whether it's the owners, manager or the players you can't rewrite the history that's been written. Football moves on and collectively #LFC have not done so quickly enough. Some of players are clearly cooked but the model at the club and identity need to change. Both together.

— Si Steers (@sisteers) April 4, 2023
Liverpool look like they're a man down once Chelsea are able to work the ball into midfield.

— James Nalton (@JDNalton) April 4, 2023
Full-time thoughts:

• Another shocking performance
• Lucky to come away with a draw
• It's a good job Chelsea couldn't finish their dinner
• Our dire run away from home continues
• It would be a real miracle for us to get top 4, especially when we keep performing like that

— Jack Gill (@jacklfcgill) April 4, 2023
"Disjointed team with no clue or direction! Even started arguing with each other now."

– Jack Mason on Facebook.
Another game, another example of Klopp having shown very little to make you think he can turn this around. Changes players, same issues. Not a single improvement. Lucky not to lose for 4th in a row.

— Matt Ladson (@mattladson) April 4, 2023
Almost everyone came in for criticism…
Jota mate. If the sim of the game was to let it bounce away from you and lose the ball then foul. Then Jota is the Messi of that game.

— Graeme Kelly (@GraemeKelly1) April 4, 2023
"Shocking performance by Jones, Jota, Tsimkas, Gomez. How Chelsea never scored. If we play like that against Arsenal god help us."

– John Millington on Facebook.
Henderson constantly shouting at everyone else, getting up on Alisson who is the best player in the team is unbelievable.

— Rebekka (@rebekkarnold) April 4, 2023
Reckon this is Fabinhos "Wijnaldum 20/21" season. Drop off towards the end of the season before (much more in Fabinho's case than Gini's) then completely falls off a cliff from being ran into the ground after being such an important player for years

— R8 ?? (@Nabyllionaire) April 4, 2023
"Curtis Jones isn't good enough! Very poor pass in the box, completely miscontrols a cross and generally loses the ball and passes backwards."

– Jacky60 commented on This Is Anfield.
There were mixed feelings on Klopp's subs…
It could be concerns over fitness driving it, but find it difficult to understand Darwin Nuñez getting hooked early. Liverpool desperately need him to find consistency before next season if they are to get back to where they want to be and limiting his minutes won't help.

— David Lynch (@dmlynch) April 4, 2023
Taking off Nunez and leaving Jota out there was a strange one.

— James Pearce (@JamesPearceLFC) April 4, 2023
Jurgen Klopp substitutions have been shocking all season. Taking off Firmino who played well instead of Jota, taking off Nunez who has no help when we needed a goal, keeping Jones on for 80 minutes and still finding a way to bring on 37 year old James Milner.

Bizarre.

— Samuel (@SamueILFC) April 4, 2023
Jota looked completely cooked 55 minutes in, to not take him off but to sub Nùñez was a bizarre decision – suggests that Klopp doesn't 100% trust him yet.

— Joel Sanderson-Murray (@joelsmurray) April 4, 2023
"Why's Klopp taking Nunez off?"

Maybe because his ankle's being tied together with string right now?

— Jay ???? (@ScouseCommie) April 4, 2023
In truth, neither team impressed…
Got to be one of the worst games I've seen this, proper two bang average sides

— Thomas Lee ? (@tomozlee09) April 4, 2023
Quite frankly whoever decided we needed another 5 minutes of this game is a sadistic psychopath

— Mike Kearney (@MikeKearney1) April 4, 2023
Both teams equally shite, just Chelsea better at the basics.

— Ian Young ????? (@ianyoungkop) April 4, 2023
This game has been so chaotic

— Clare (@ClaresCustoms) April 4, 2023
Let us know your thoughts on the game in the comments section.