Jurgen Klopp has insisted he "knows what he has to do" in urging Liverpool to respond to their 4-1 defeat at Man City, with a meeting planned Sunday.
Any potential plans for a day off after the Reds' trip to the Etihad were consigned to the scrapheap when Man City struck three times in the second half.
It was a humiliating loss for Liverpool, away to their modern rivals, and came at the start of a run in which they play City, Chelsea and Arsenal in just nine days.
There were no words of criticism from the manager in the dressing room, with his input saved for an inquest at the AXA Training Centre on Sunday.
"We have to do that tomorrow, I told the boys now there's nothing to say from my side tonight," he told reporters after the game.
"Everything is obvious, everyone needs to think themselves about it and tomorrow we have to talk about it.
"But that was nothing for now.
"Yeah, there's not a lot of time, but there's time. We don't play tomorrow, we play on Tuesday."
He added: "Being good while you're feeling good is OK, but not being good when you don't feel 100 percent is obviously not possible in the Premier League."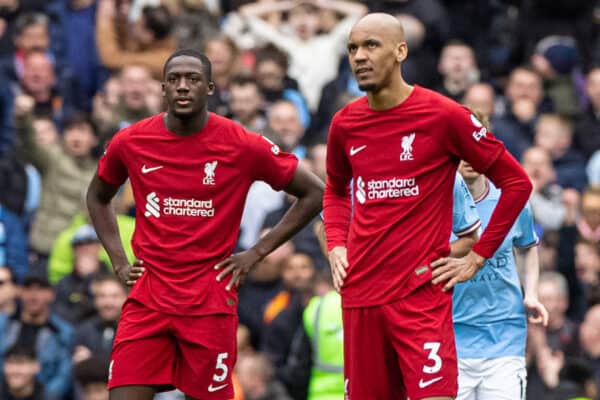 Klopp noted before kickoff that "being 1-0 down this year changes pretty much everything for us," and while that did not happen at the Etihad, the start to the second half certainly replicated it.
With the score 1-1 at the break, Liverpool then conceded within 60 seconds of the restart as Julian Alvarez carved the defence open and Kevin De Bruyne tapped in.
It showed a clear organisational issue in the side, but also a concern over their attitude, though the manager insists he would not let any disappointment cloud his judgement.
"You don't have to worry about me," he said when asked if he was feeling flat.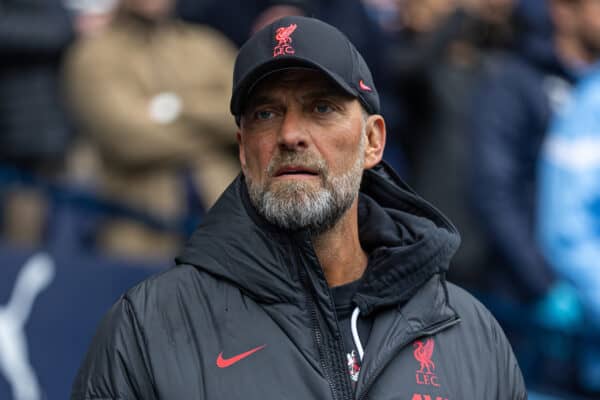 "I watch things, I analyse things and then I go again.
"My emotions were never my problem – they are in moments on the sideline, but not after a game.
"I know what I have to do, but I have to make sure that it arrives in the right places."