Trent Alexander-Arnold operated in a midfield role in Liverpool's 2-2 draw with Arsenal, with Jurgen Klopp insisting it is "not the first time" he has.
Alexander-Arnold featured as part of a "double six" with Fabinho for large parts of Sunday's showdown with league leaders Arsenal – a switch that didn't go unnoticed by supporters.
The 24-year-old found himself noticeably further up the pitch during a high-intensity clash with the Gunners and the manager was asked about the position change in his post-match press conference.
"It's not the first time," explained the boss.
"We did that before, but it was it was not that obvious. But we did that before, we put Trent inside.
"Today, in buildup Trent played more inside, double six, that's how it is.
"You need to get used to it, obviously. I would say it's a big step to do it in a game against Arsenal."
Plenty has been made of Alexander-Arnold's defensive performances in recent months, with many fans calling for the right-back to be moved to midfield.
The shift meant that Ibrahima Konate was asked to cover for the England international as he attempted to provide greater creativity from central areas.
Klopp admitted that the adjustment hasn't been tried for "a while" and was pleased with the performance for that reason.
"It opened up different opportunities for us, if you watch it back after we learned to use it," Klopp told reporters.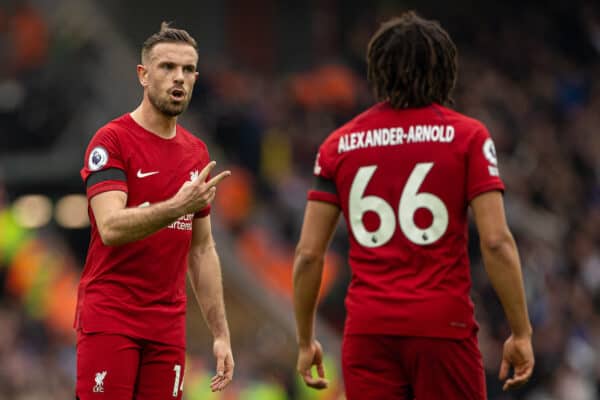 "I thought he did well. It was not the first time, but not for a while, that's why I'm fine with how he executed it."
It remains to be seen whether Alexander-Arnold will receive further minutes in midfield this season, something which could be used to alleviate deficiencies in the middle of the park and spark creativity.
It would demand a great deal of the defensive responsibilities to be picked up by the likes of Konate and Virgil van Dijk, as well as Fabinho dropping in.
But it certainly appeared to breathe new life into Liverpool as they overturned a two-goal deficit.