After five consecutive penalties scored, Mohamed Salah has now missed two in a row, with Jurgen Klopp admitting he could change his taker.
Since the start of 2020, Salah has almost exclusively served as Liverpool's penalty taker, with 20 of the last 23 spot-kicks taken by the No. 11.
The first nine of those were all scored, too, with his run of successful penalties extended to 17 between missing his first for Liverpool against Huddersfield in 2017 and then against AC Milan in 2021.
Now, though, Salah has missed four of his last 11 including both of his most recent spot-kicks – firing wide against Bournemouth and Arsenal.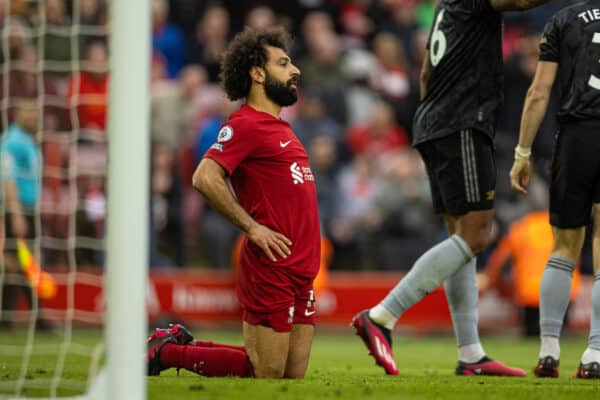 Salah also suffered misery from the spot in Egypt's Africa Cup of Nations final and World Cup playoff final shootouts against Senegal last year.
It is a concern, given how few penalties Liverpool are awarded and the fragile psychology for those taking them, and Klopp has acknowledged that.
In his post-match press conference after the 2-2 draw with Arsenal, Klopp was asked whether he would considered taking Salah off penalty duty.
"That's something we will talk about," he admitted, "but not here."
Liverpool have a handful of viable alternatives when it comes to taking penalties, not least Fabinho, who has scored 24 of the 25 he has taken throughout his career, including the last 15 in a row.
James Milner is de facto second choice, but of those who are regular starters, Darwin Nunez is the other standout, having scored all 11 of his previous penalties.
Beyond a potential switch of his penalty taker, Klopp could scrap his superstition of not watching his team's spot-kicks, having initially been led to believe Salah's went in.
"I only saw the penalty now after the game. I thought a few people in the crowd reacted [as if it went in]," he admitted.
"So when you don't see the penalty, you react to what the people see and a few people obviously thought the ball was in.
"But it missed the goal. That's why I had, for a second, the fist [raised], then I realised 'oh, nobody's really celebrating' and I realised the ball was not in."