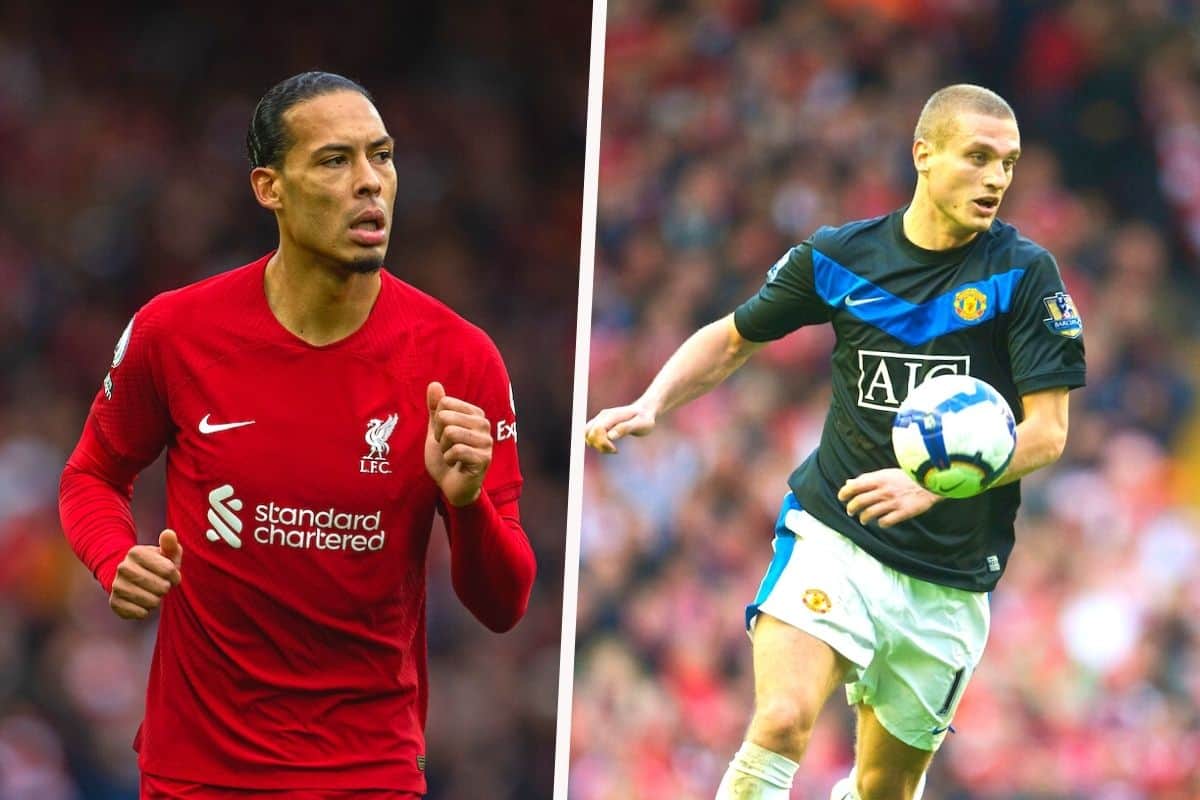 A rare tough spell for Virgil van Dijk has sparked comparisons with Nemanja Vidic, with the likes of Jamie Carragher and Rio Ferdinand having their say.
The Netherlands captain has been the subject of criticism in recent weeks in what has been a difficult period for Liverpool defensively.
Predictably, Carragher went in to bat for Van Dijk in response to a tweet which questioned his status as an all-time Premier League great.
The former Reds defender conceded that Vidic was a "top" centre-back in his own right, but that Van Dijk's impact on Liverpool makes him the superior player.
VVD is far better than Vidic, who was a top CB, but have you forgot his performances against Torres?

Rio & JT had poor seasons in their career like all players, VVD is having one now.

No CB in the PL era has ever had VVD's impact on a team. https://t.co/rZ7vfHRN7d

— Jamie Carragher (@Carra23) April 10, 2023
Carragher cited Vidic's performances against Fernando Torres to demonstrate that all top centre-backs have difficult moments in their careers, with the Spaniard particularly devastating during a 4-1 win at Old Trafford in 2009.
Ferdinand also gave his opinion by replying to Carragher with a video discussing what he described as a "myth" regarding Vidic's struggles against Torres.
"I think Torres scored three goals in 15 games against Vidic, I think it's a bit of a myth," insisted Ferdinand.
"He had a couple of dodgy moments in those games and he got sent off a couple of times, but that's kind of been amplified into saying he got tortured every time he played against Torres which wasn't the case."
Let's join this debate…. ??
Torres v Vidaaaa
Rashford v VVDhttps://t.co/NhBWBxVgsK https://t.co/p0KxaaTxRR pic.twitter.com/s28p8uCOaH

— Rio Ferdinand (@rioferdy5) April 10, 2023
It is a discussion which supporters have gladly sunk their teeth into, with plenty offering their thoughts on the comparisons and many leaping to the defence of the Reds' talismanic centre-back.
Several supporters have pointed to the "tribalism" at the heart of the criticism towards Van Dijk, who has been described as a "colossus" and "one of the Premier League's greatest centre-backs" by Liverpool fans:
There's a reason it always circles back to Vidic and van Dijk: different eras, but seemingly consensus picks among their peers.

Both have flaws because they're human — a fail comp ? a career. Doesn't make either one overrated.

— El Mans (@el_mansfield) April 10, 2023
Spot on. Pretending Virgil Van Dijk isn't the best centre half the Prem has seen is just petty tribalism now he's struggling. No one reached his level at his peak. Yes it was cut short by Pickford, but from 17-20 he showed all the qualities of Vidic, Ferdinand & Terry combined. https://t.co/WnthXIery2

— Neil Docking (@NeilDocking) April 10, 2023
The creeping suggestion Virgil van Dijk is not one of the Premier League's greatest centre-backs is downright bizarre. You'd have to be unwell to think that. Still, shows some people only have selective memories for the most basic truths. Now off to celebrate my 21st birthday ?

— Ian Doyle (@IanDoyleSport) April 10, 2023
It's pointless tribal shite I know, and frankly I'm annoyed I'm even getting involved, but Van Dijk's the best centre-back in Premier League history. You can thrown longevity at me and a below-par season, but no CB has been as complete or had his impact over a 3/4-year period.

— Henry Jackson (@HenryJackson87) April 10, 2023
Van Dijk at Southampton btw, already a colossus of a CB. Led Southampton to 6th & 8th place finishes with consistent 8 or 9 out of 10 performances. Remember some specific performances vs Kane & Mané . It was him & Alderweireld who were a cut above the rest. Was fairly obvious.

— Raj Chohan (@rajsinghchohan) April 10, 2023
Gentle reminder that Van Dijk was 7 points behind Messi in the 2019 Ballon d'Or. A small swing in votes would've made him the first defender since Cannavaro to win it. Terry and Ferdinand never, ever came close to that level. ?? https://t.co/DgUF719nwK

— LFC Stats (@LFCData) April 10, 2023
This take on Van Dijk is awful. He was probably the best defender in Europe last season. Which was after his injury. Doesn't mean he hasn't been poor this season. The injury jibe is just lazy https://t.co/48N86KYmpl

— Sponge (@monkeysponge) April 10, 2023
The debate is unlikely to ever reach a full conclusion, but Ferdinand and Carragher are perhaps two of the most highly-qualified people who could offer their takes.
The pair made 1,012 Premier League appearances between them and are also widely regarded as two of the best defenders the Premier League has produced.