Jurgen Klopp declared Liverpool "will spend" in the summer, and the club's owners are "fully" behind the manager and seemingly ready to dig deep into their pockets.
Three midfielders are to be the bare minimum in the summer and then there is an argument that a centre-back is also required, plus further squad additions.
It is a summer that the club need to get right and Klopp insisted at the end of March that "the club will spend in the summer, definitely," but "for who and how many" he would not say.
For the targets reported, such as Jude Bellingham and Mason Mount, they alone will demand in excess of £150 million and FSG must be prepared to back Klopp.
And they are to do just that, as per The Athletic's James Pearce who, when promoting his latest article on Twitter, said FSG "intend to back him with serious funds this summer," with the German retaining the owner's "full support."
Whatever happens between now and the end of May, Jurgen Klopp's position is safe. He retains the full support of the owners, who intend to back him with serious funds this summer.
Klopp knows there can be no repeat of this season's tale of woe. #LFC https://t.co/K9auNDcCpq

— James Pearce (@JamesPearceLFC) April 4, 2023
In Pearce's article itself, it is said that FSG "know serious investment is required" in the upcoming transfer window to turn Liverpool's fortunes around.
There is "sympathy in Boston for the problems he's [Klopp] been wrestling with" throughout the season, as while a "drop-off was inevitable" no one foresaw the current levels of demise.
FSG are still looking for a minority investment and the conclusion of their search would not only inject valuable funds into the club but also provide needed stability from the top.
They may even be anticipating to have sourced outside investment by the time the summer arrives, no doubt they will be hopeful of just that considering the funds required to inject into the club.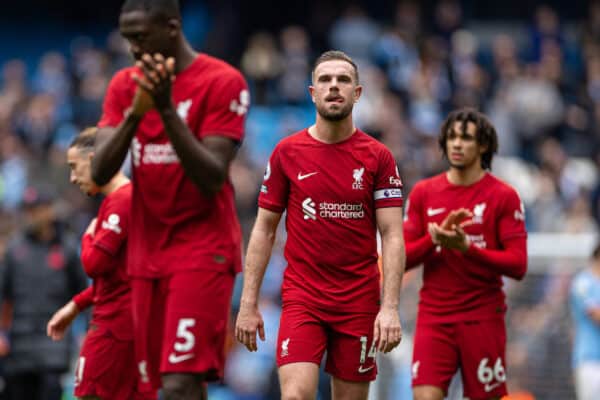 We have heard cliche phrases like 'armed with a war chest' and claims of hundreds of millions to spend in years previous, it has not quite got to that level yet but there is still time.
Needless to say, Liverpool will still be required to be savvy operators in the transfer market as they cannot make a £50 million-plus mistake like Man City and Chelsea can.
For this, they will rely on a sporting director and while Julian Ward is currently overseeing the necessary duties until his summer exit, a successor has yet to be appointed.
It leaves plenty of stability for Liverpool to find at the top when it comes to investors and a new sporting director, but it's clear that FSG and Klopp are aligned on what the squad needs.
Now to make it come to fruition in the summer so we can see how 'serious' they are.