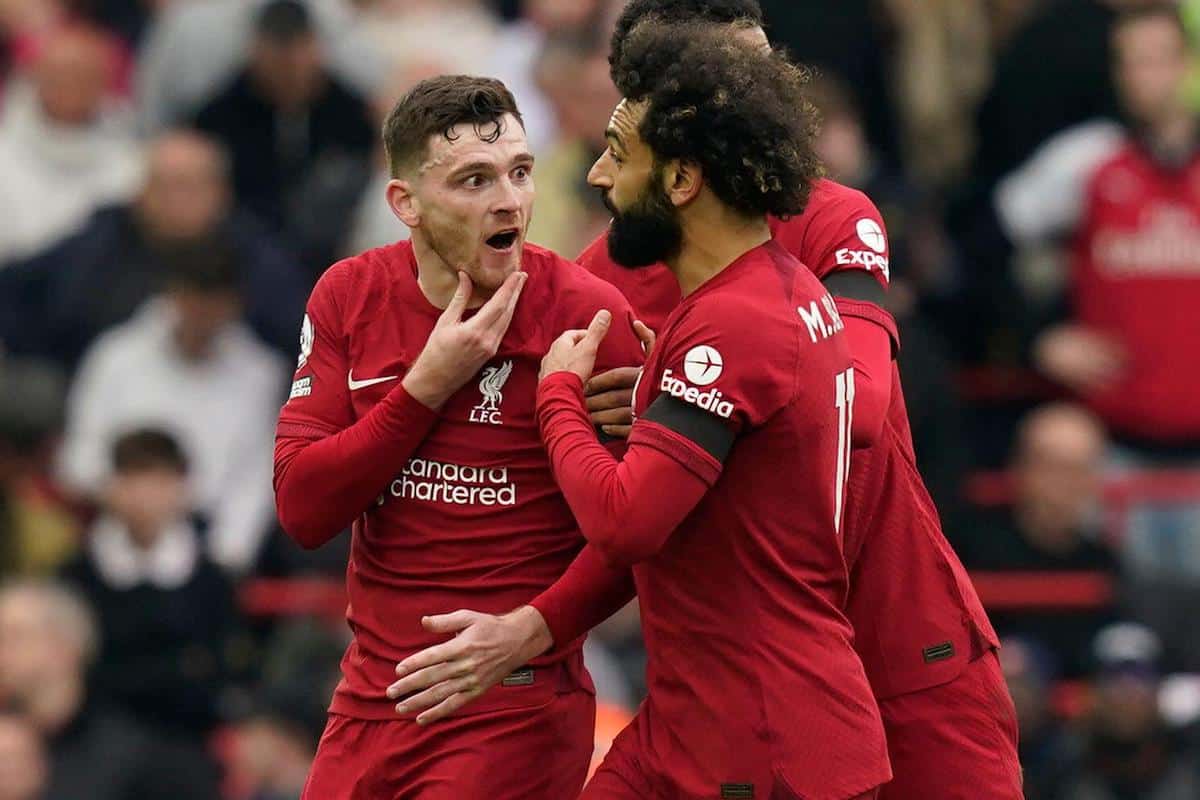 Andy Robertson took an elbow to the jaw from linesman Constantine Hatzidakis at Anfield, and some have now looked to blame Liverpool's left-back.
The Scot confronted Hatzidakis at half-time during Sunday's match, which saw the linesman react and make contact with Robertson's face.
The linesman has since been stood down from Premier League duties as the PGMOL now investigates his conduct after multiple angles of the incident were caught on Sky Sports cameras.
The reaction to the incident has seen blame placed on the shoulders of both Hatzidakis and Robertson, but some are seemingly forgetting someone got elbowed in the face.
The narrative is shifting for some, though, with ex-refs and journalists now looking at Robertson – using him as the example of how officials have been pushed too far.
The Mail's Craig Hope states, "spare us this nonsense of the official warranting a ban," he should instead be "reminded of his responsibility" and then "we should focus on the real issue here."
"Robertson was simply doing what they all do," Hope continued when making reference to the "grotesque, inhumane and irresponsible" treatment of match officials.
The Times' Martin Samuel noted an incident like this "had to happen, sooner or later" as he questioned "how many of Hatzidakis's colleagues were sitting at home, thinking: 'Go on, Constantine, son. Now stick the boot in'."
Samuel echoed the sentiments of Hope that Robertson "was just doing what players have been allowed to do for too long now."
There was an acceptance that Hatzidakis shouldn't have acted in such a way but the tone of defending Robertson receiving an elbow to the face has become obvious.
Well said.
The linesman here has to be defended at all costs. https://t.co/wMJo0L3ZsW

— Paul Hayward (@_PaulHayward) April 9, 2023
?? Column for @MailSport…
? Constantine Hatzidakis should NOT be punished
???? It was an instinctive reaction to defend personal space
?? We should focus on the source of problem – the continued abuse of officials. It's grotesque, inhumane & irresponsible https://t.co/6aFzohgAKQ

— Craig Hope (@CraigHope_DM) April 10, 2023
Ex-Premier League referee Peter Walton also pointed the finger at Robertson's role, telling the Mirror:
"Of course, Constantine Hatzidakis should not have pushed his elbow towards Andrew Robertson. All officials have a duty to uphold standards and the PGMOL probe may bring a reprimand.

"However, I believe the available replays make the incident look worse than it probably was.

"Robertson went over to the assistant, and Hatzidakis then motions in the Liverpool left back's direction. The quality of the footage makes more than speculation difficult.

"Regardless, this episode is emblematic of the heightening tensions between players and officials. It is also worth emphasising that Robertson instigated the dispute by unnecessarily approaching Hatzidakis, as the confronting of referees and their assistants continues."
In no workplace is it acceptable to lash out as Hatzidakis did, and while officials are subject to needless outbursts during matches, it does not warrant or justify such a reaction.
One can have a conversation about how players ought to interact with officials but it does not excuse the action, just imagine if it was the other way around.