Trent Alexander-Arnold's role against Arsenal was certainly a talking point, with the right-back being used in midfield while in possession. Harry McMullen takes a closer look.
Anfield played a massive part in the incredible turnaround against Arsenal, urging Liverpool on to smother the opposition and create some golden chances to beat the league leaders.
But it would be unfair to ascribe it all to heart, spirit and desire. Jurgen Klopp adjusted his tactical setup – and his deployment of Trent Alexander-Arnold – brilliantly to give his team the platform they needed.
Out of possession – but not ideas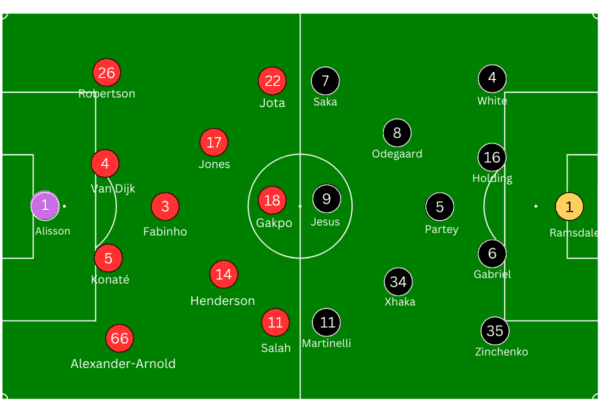 Both team sheets showed a '4-3-3'. But as we know, Trent was used as an inverted full-back in this game, drifting from his usual right-back position into central midfield alongside Fabinho.
When we talk about formations like 4-3-3 or 4-4-2, these are only the foundation for a series of different shapes depending on each phase of play (attack, defence, attacking transition and defensive transition).
So from the kickoff and in defensive phases of play, Trent was still a right back. But when in possession, he was very clearly in the midfield position – Klopp referred to it as a "double six".
We saw this clearly when Liverpool were building out from the back. Arsenal used a player-to-player press where the front three of Bukayo Saka, Gabriel Jesus and Gabriel Martinelli each took on a Liverpool defender, with Granit Xhaka on the left or Ben White on the right 'jumping out' of the shape to press the spare player.
Arsenal did this because they expected Liverpool to have a 2-3-5 shape in attack (or 'settled possession'). This is where the Reds have two defenders and three midfielders in deeper areas, while the full backs provide width.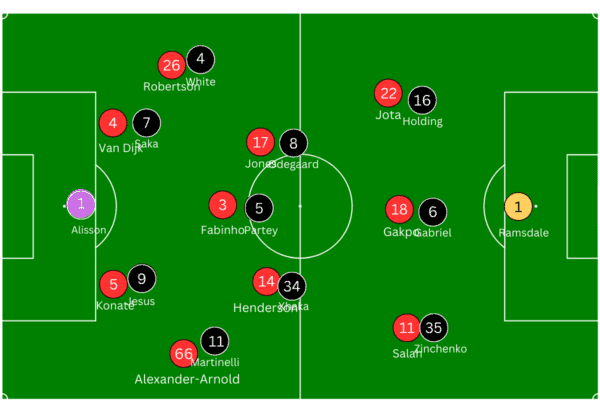 Liverpool did this for several years, but it often left space behind the full-backs for the opposition to exploit.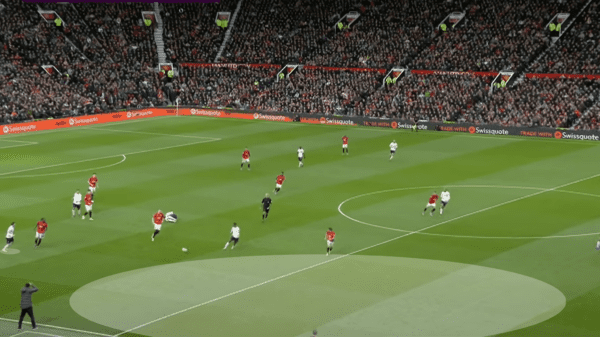 Last season this was tweaked by splitting the centre-backs wide and relying on Fabinho to screen the central area. The decline of the front press and Fabinho's shaky form this season has left this area wide open – which is why pundits often talk about Liverpool having a 'soft centre'.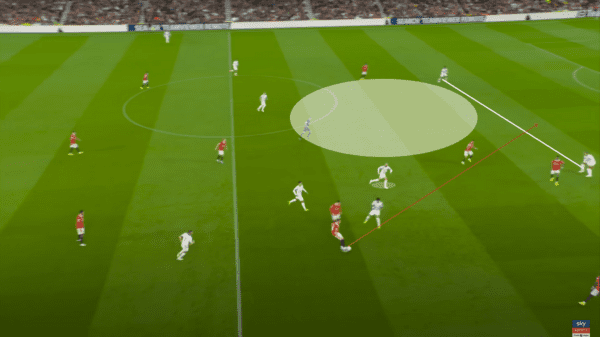 However, inverting Trent gave Liverpool a 3-2-5 shape, as Andy Robertson held his position alongside the centre-backs.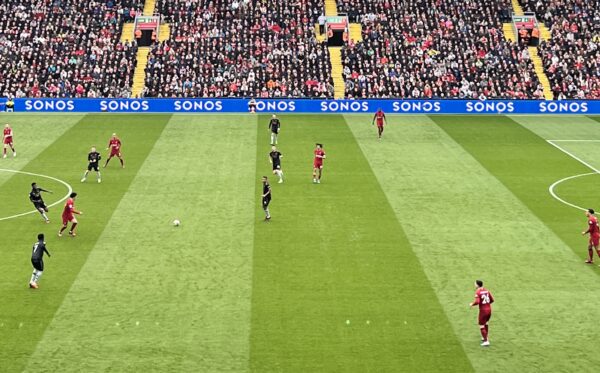 Suddenly Liverpool had an extra body in the backline – with Ibrahima Konate guarding the right-back space – and they upset Arsenal's pressing structure. Martinelli became unsure of whether to press Konate and leave Trent open, or follow Trent and give Konate a direct pass forward to Salah.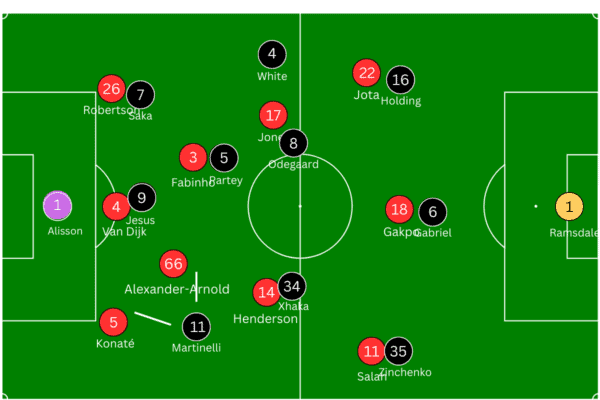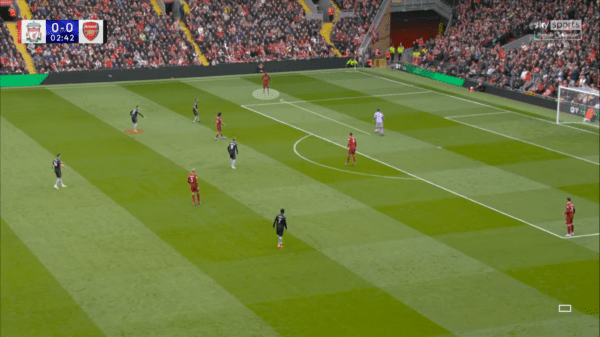 Given that Salah could then go 1v1 with Oleksandr Zinchenko – himself a defender who spends more time inverting into midfield – this was a smart strategy from Klopp and co.
Unfortunately, Arsenal are also very smart, and they solved this problem pretty quickly. Zinchenko stayed in midfield even out of possession, pushing Xhaka onto Trent and Martinelli onto Konate. This left Salah 1v1 with Gabriel – a much better 1v1 defender than Zinchenko.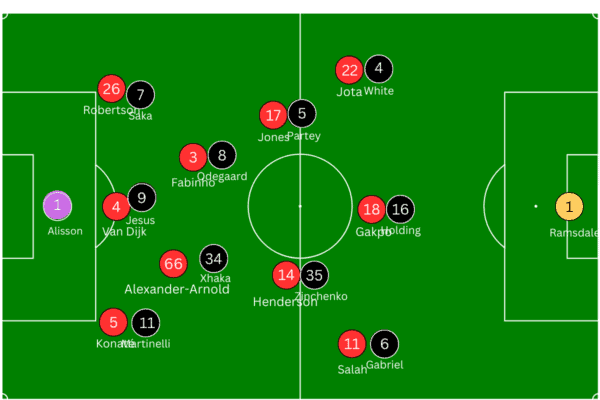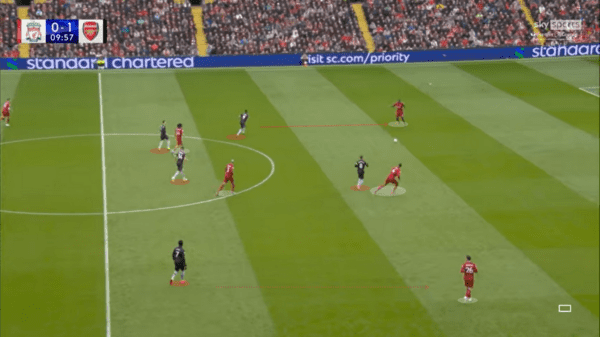 The game, therefore, became a battle of two identical 3-2-5 shapes, and who could exploit them better. Given that Arsenal have two years more experience using the shape, it makes sense that they'd take a two-goal lead.
So what changed?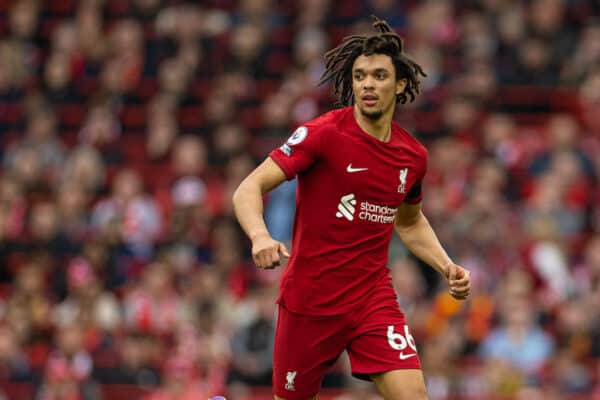 With Liverpool second-best at playing out from the back, Alisson began to hit more frequent long balls.
Liverpool's long ball percentage has dropped this season as the midfield has become a lot worse at winning second balls, which is why we continue to see the Reds continue playing out despite not doing that particularly well either.
But with Trent in the double six with Fabinho, Curtis Jones and Jordan Henderson had licence to play further forward as number 10s in a box midfield: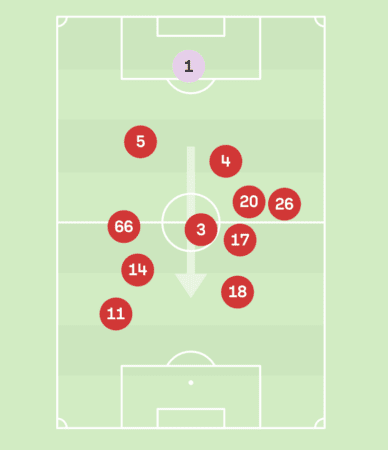 Klopp spoke after the game about how this made Liverpool more compact – the midfielders had less ground to cover and more success in counter-pressing. The pair were so tenacious that Arsenal also began playing long more often, leading to what Mikel Arteta called "a very transitional game" where his team "lost control."
Of course, the Anfield factor allowed Liverpool to make the most of this tactical tweak – even the best laid plans can count for nought if the energy in the stadium doesn't support it.
How did Trent perform in the role?
There were mixed reactions to what was ultimately a mixed performance. The likes of Gary Neville dismissed it immediately, while Klopp reflected that Trent "need(ed) to get used to it, obviously."
One issue is that Trent is not an exceptionally press-resistant player – something that's crucial when playing in that double pivot.
Here's one example early on. Trent receives the pass as planned, comes under pressure with his back to the play, and is forced to go straight back to Alisson.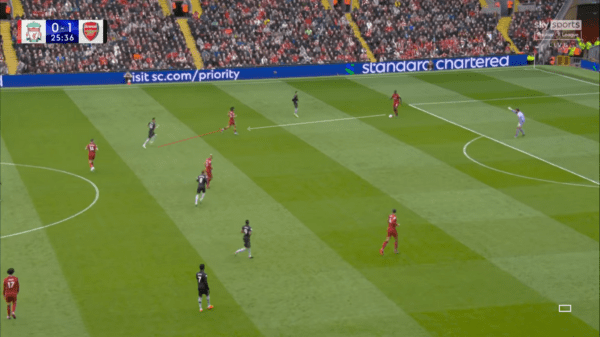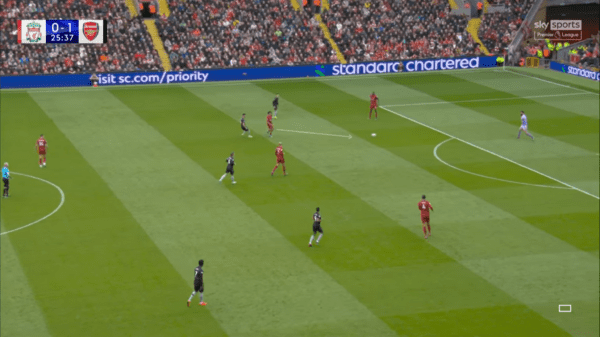 However, there were also signs of a growing confidence as the game wore on. Here he is doing his best Moises Caicedo impression to progress the ball cleverly.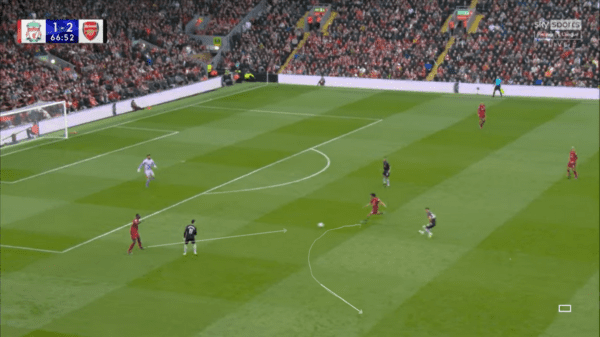 Trent also got into his preferred playmaking positions several times later in the game, where he could then give us his Kevin De Bruyne – including the late Konate chance.
Unbelievable from Aaron Ramsdale ??

— Gunners (@Gunnersc0m) April 10, 2023
Of course, the assist for the equaliser came from him getting 1v1 with Zinchenko near the byline, so clearly it's still useful for him to overlap on the right sometimes.
A useful gameplan – or a long-term change?
But was this successful enough to persist with beyond just the specific problem of Arsenal?
Well, given that I have advocated for Trent Inverted-Arnold before, it unsurprisingly worked for me.
It's also no surprise that Klopp's version is way smarter than mine – by dropping Andy Robertson into the back three (rather than Fabinho as I suggested), Liverpool could quickly and easily transition from the 3-2-5 to a 4-4-2 block when defending Arsenal's settled possession phase.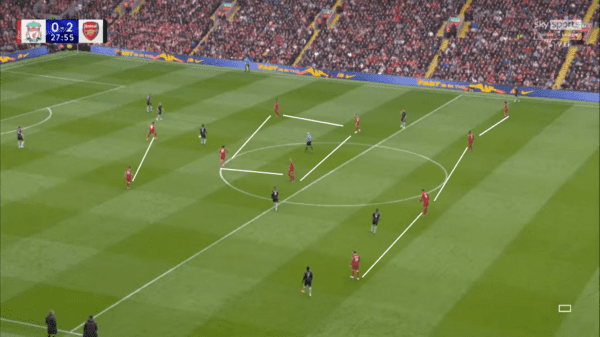 This block encourages a more compact midfield, while the front press is more flexible, with the two leading the line supported by the ball-side player 'jumping' into the forward press as needed.
If Liverpool want to build on this performance, it's clear that inverting Trent into midfield allowed Liverpool to be 'more compact, line higher, midfield closer, front three together' whilst creating plenty of chances.
Perhaps tactically evolving will be just as key as recruiting smartly in next season's revival.
---