Former referees are torn over the incident that saw linesman Constantine Hatzidakis elbow Andy Robertson at Anfield, but many expect a long ban.
Hatzidakis was confronted by Robertson after a fiery first half between Liverpool and Arsenal on Sunday, which led to the assistant referee elbowing the Scot in the jaw.
The left-back was eventually booked by referee Paul Tierney for his protest, but footage showed that Hatzidakis had struck him, seemingly on purpose.
PGMOL, the referees' group, are now investigating the situation, which has left many of Hatzidakis' former colleagues baffled.
Writing in the Telegraph, Keith Hackett, who was formerly general manager of the PGMOL, suggested that "fear" had been the motivation following the recent incident between Fulham's Aleksandar Mitrovic and referee Chris Kavanagh.
"I would not be surprised if this had a role in Hatzidakis acting unusually," he said of Mitrovic's shove on Kavanagh in the FA Cup quarter-finals.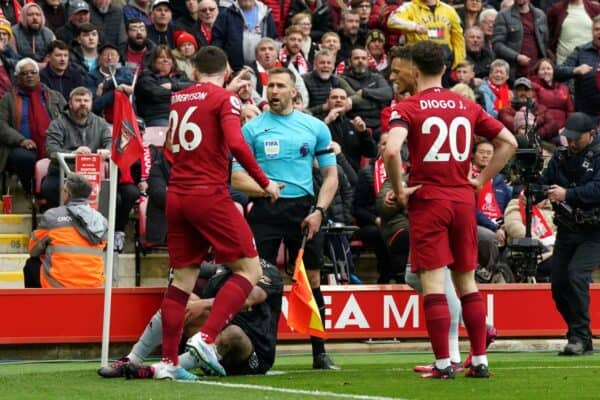 However, while Hackett sympathised with Hatzidakis, he also described the situation as "unprecedented" and predicted a lengthy ban:
"Referees have attacked players in other leagues but the situation which occurred at Anfield is unprecedented in English football.

"Therefore, given the circumstances it is important we do not judge this unusual situation before a full investigation is carried out which provides much-needed clarity.

"It will no doubt have serious implications for Hatzidakis' career should he be found guilty and just like a player, will receive a suspension."
One of the most high-profile former Premier League referees, in his column for the Mail, Mark Clattenberg doubted that Hatzidakis meant to strike Robertson, but also hinted at a suspension:
"Players can push us officials to the limit. They can provoke to the point where you are probably tempted to give them something in return. But under no circumstances can we can respond. Certainly not physically.

"Hatzidakis did and there will now be a clamour for him to be banned, given Fulham's Aleksandar Mitrovic is set to miss eight matches for pushing referee Chris Kavanagh last month.

"I do not think Hatzidakis meant to catch Robertson with his elbow. But it will be interesting to see how Webb handles this one."
"If guilty, he has to have an 8 game ban." ?

???? "You've got to look at Mitrovic. It's two similar instances. They've set a precedent."

Mark Halsey expects assistant Hatzidakis to face an 8 game ban, if guilty of elbowing. 8?? pic.twitter.com/aO8glwrm0W

— talkSPORT (@talkSPORT) April 10, 2023
Speaking to talkSPORT, Clattenberg's old colleague Mark Halsey argued that an independent regulatory commission had "set the precedent" by banning Mitrovic for eight games:
"If Mitrovic is being banned for eight games for a technical assault, they could say the assistant referee has technically assaulted a player.

"You're looking at two similar incidents, aren't you?

"Obviously if found guilty, he has to suffer the consequences of an eight-game ban, because they've set the precedent, haven't they?"
And Dermot Gallagher, ex-Premier League referee and Sky Sports' go-to official, claimed that though Hatzidakis was a "really great guy," he had "never heard of or seen anything like it":
"I can't ever imagine me being in a position where I would lose my own composure.

"When you referee, always you have to be in control of yourself. That's the only way you can control the players, by controlling yourself.

"So I would be stunned if he was in that position [where the intensity got to him].

"I'm not saying he didn't, but I would be stunned. Because that's alien to how we're brought up as referees."
In 2021, referee Darren Drysdale was issued a four-match ban for squaring up to Ipswich midfielder Alan Judge, receiving an FA charge for misconduct.