Three days after "always the victims" chants at Man City, Chelsea fans went through the songbook with hateful songs referencing the Hillsborough disaster.
"Always the victims." "Murderers." "Sign on."
They were all given an airing at Stamford Bridge on Tuesday night, and it came as little surprise given those involved.
That it came just days after thousands of Man City supporters sang "always the victims" at the Etihad is depressing, with there clearly little progress being made.
Man City were forced to apologise on behalf of their fans on Saturday, and Chelsea have done the same with a 33-word statement at full-time.
We know the impact these vile chants have on those who continue to suffer as a result of football tragedies. For their sake, this has to stop. https://t.co/5dLLAl4Ptu

— Liverpool FC (@LFC) April 4, 2023
Unfortunately, it came with a deflecting tone as the London club apologised "to anyone who has been offended."
Their statement reads:
"Chelsea FC condemns the inappropriate chants heard from some home fans during this evening's game.
"Hateful chanting has no place in football and we apologise to anyone who has been offended by them."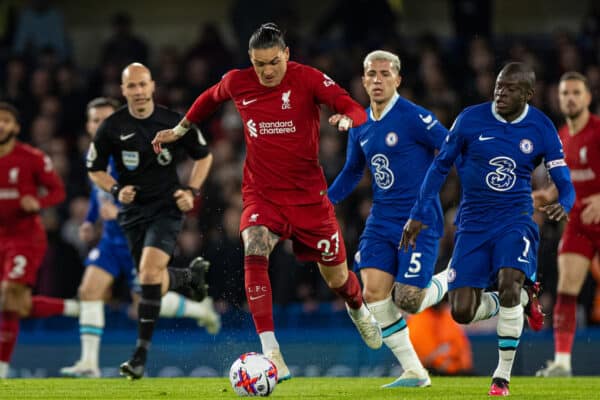 Meanwhile, the Premier League provided a similarly lip service statement:
"The Premier League condemns the tragedy chanting heard at tonight's match between Chelsea and Liverpool. We continue to treat this as an unacceptable issue and are seeking to address it as a priority."
Liverpool and Chelsea played out a boring 0-0 draw at Stamford Bridge, which came after the same scoreline at Anfield earlier this season to make it four goalless draws in a row between the two sides.
There were few genuine chances for the Reds, though Joe Gomez and Fabinho went close in the first half, with Jurgen Klopp's side clearly lacking confidence in their malaise.
Next up is the visit of league leaders Arsenal, with Liverpool currently eighth in the Premier League after Aston Villa's 2-1 victory over Leicester.
With 10 games to play before the end of the season, it will be an unlikely fight to achieve their minimum goal of a top-four finish.