The moment linesman Constantine Hatzidakis elbowed Andy Robertson in the face was a shocking one, but it was not the first run-in they have had.
Hatzidakis is awaiting the conclusion of an investigation into an incident at half-time in Sunday's 2-2 draw between Liverpool and Arsenal, when he struck Robertson in the jaw.
Several angles of footage have shown the official to have raised his arm at the left-back, who was incensed as he and his team-mates confronted referee Paul Tierney.
Tierney issued Robertson a yellow card for his involvement, but how – or whether – Hatzidakis will be punished remains to be seen.
The incident seemed an isolated one, but the Mirror's David Maddock took to Twitter after the game to argue that "something really stinks" after a previous run-in between Robertson and the same officials.
Robertson had put Liverpool 2-1 up at Tottenham in November 2021 when, eight minutes on, a wild swing at Emerson Royal saw the Scot shown a red card.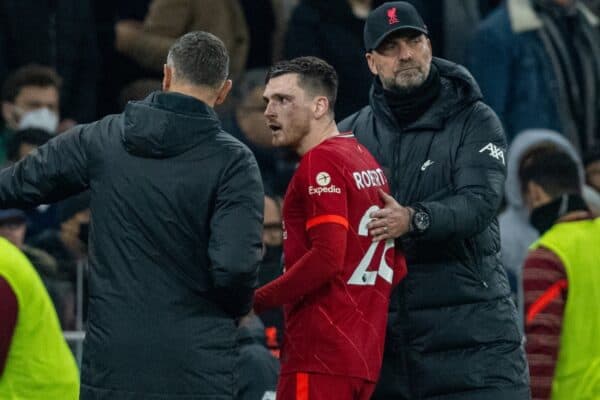 It was a deserved sending-off, but Jurgen Klopp was furious afterwards as Harry Kane avoided a dismissal of his own for a dangerous, studs-up challenge on Robertson, while a clear foul on Diogo Jota in the penalty box was waved away.
The referee that day was Tierney; one of his assistants was Hatzidakis.
"I have no problems with any referees, only you," Klopp told Tierney. "If you don't think that this is a penalty, you've never played football."
While it would be remiss to suggest that Tierney and Hatzidakis hold a grudge against Klopp, Robertson and Liverpool, it is a worrying coincidence.
Maddock wrote: "Is it just coincidence Tierney and his assistant Hatzidakis were involved in a bizarre officiating performance here?
"Elbow aside, they missed [a] blatant [penalty] for Salah at end."
Hatzidakis has been linesman for five Liverpool games now this season, all of which have been supporting Tierney as referee; in his career, he has overseen the Reds on 32 occasions.
Speaking in his post-match press conference, Klopp insisted that he "didn't see" the elbow on Robertson, but said that he "heard the pictures speak for themselves."
The manager confirmed that he had not approached the officials for clarification on any decisions or situations during the game on Sunday.
However, PGMOL are expected to make another statement in due course.