Despite coming from two goals behind, there was a hint of disappointment following Liverpool's 2-2 draw with Arsenal at Anfield.
There was an inescapable sense of an opportunity missed after Liverpool left with just a point in an eventful Sunday afternoon clash with the league leaders.
Goals from Gabriel Martinelli and Gabriel Jesus put the Gunners in front early on, before Mohamed Salah and Roberto Firmino put the Reds back on level terms.
A missed penalty by the Egyptian and wasted chances from Darwin Nunez and Ibrahima Konate left fans wondering what might have been, but there were a number of positives to take from a defiant second-half performance.
Here, Adam Beattie (@beatts94) is joined by Thomas Eves (@TomEvesJourno) and Henry Jackson (@HenryJackson87) to discuss a frantic encounter with title-chasing Arsenal.
That was a lively one! Are you happy with the point or frustrated it wasn't more?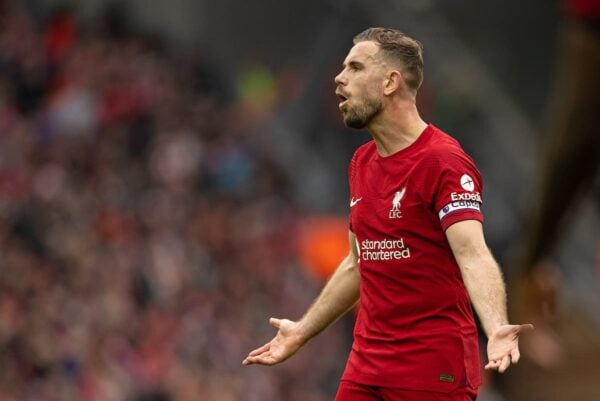 Henry: It's a tricky one, because after about half an hour, I'd have been delighted to just walk away with a 2-0 defeat.
I honestly thought it was going to be about 6-0 and I'm not even joking!
But then we battered them in the second half and were more than worthy of all three points, so it's hard not to feel a little disappointed. With the chances we created, it should have been a famous comeback that led to a stunning victory.
Overall, I'm happy enough with the point, mainly because of the fight we showed and the quality we produced.
Tom: I'm happy with the point as before the game I didn't expect much, but at the same time I'm gutted we didn't get all three points after that impressive second half.
We played much better but we just needed to be a bit more clinical. On another day we win that.
Adam: That second-half performance is really pleasing, particularly given how toothless we were for the first half an hour.
It's hard not to be a bit disappointed given the chances we created, and judging from what I've heard Arsenal fans are relieved that they came away with a point, which tells you all you need to know.
A real game of two halves, how pleasing was the second 45?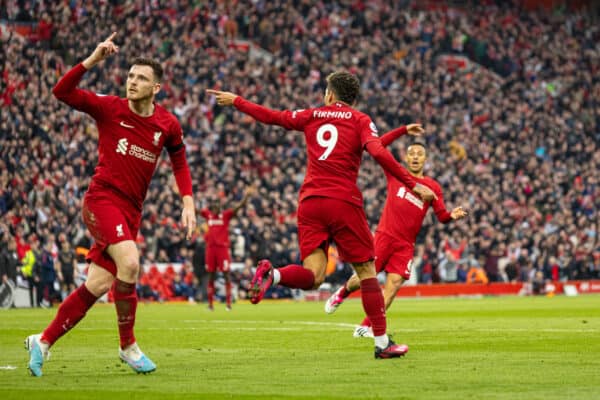 Adam: The character we showed was the thing I was most happy with.
It would have been easy for heads to drop after the second goal goes in, something which has happened too often already this season, but a combination of the crowd and a bit of belief got us back into the game when we looked beaten.
Tom: The second 45 was brilliant to watch, it was nice to actually see us looking up for it.
I thought we were going to be in for a long afternoon judging by the first half an hour, so I'm glad we switched things around.
Henry: The lack of fight on show for much of the first half was galling, in all honesty, but hats off to them for such a spirited fightback and showing that they do actually still care about this season.
To outplay an Arsenal team who have been absolutely flying is a testament to how well the Reds responded, especially after such a terrible, terrible start.
The finishing cost us in the end, didn't it?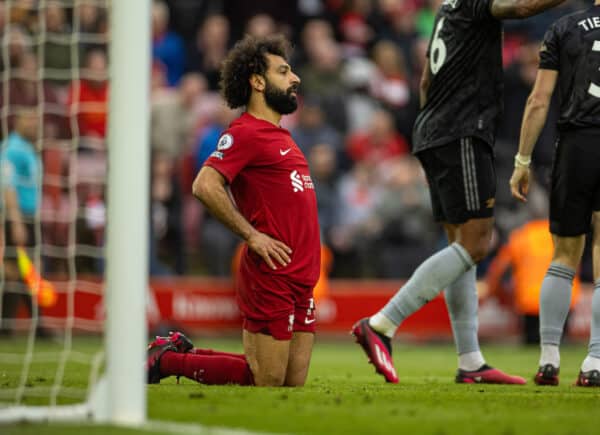 Tom: It definitely did, Nunez should've 100 percent buried his chance and I'm disappointed with Mo's penalty.
When he's taking a penalty you always back him to score and now he's missed another massive penalty that has cost us immensely, as was also the case at Bournemouth.
Adam: I agree, that penalty really was a kick in the teeth because you felt as though the game could have taken on a completely different complexity had it gone in.
The Konate one was also a killer, if that falls to one of the forwards we would've all had a lovely bank holiday Sunday evening.
It just wasn't to be.
Henry: So much is rightly made of Liverpool's defensive and midfield issues this season, but christ, if they could finish better it would have been a much better campaign.
Quite how Konate missed at the end I'll never know – thank god it wasn't an absolutely massive, must-win game for the Reds like in recent seasons – while Salah's penalty summed up the profligacy.
I never, ever fancy him from the spot, even when he scores loads in a row.
Were there any performances that stood out for you?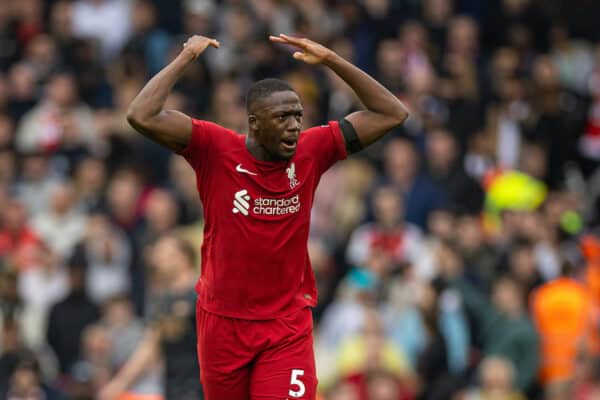 Adam: Konate was head and shoulders above everyone else for me, it's a shame that he didn't get to cap it off with a winner at the end.
Keeping him fit is going to be enormous for us next season.
We look so much more solid defensively when he's in the side, and he's still only 23 so you'd have to imagine he will continue to get better.
Henry: Konate for me too, he was absolutely superb in the second half and had such an influence with his physicality.
Thiago and Firmino were good off the bench – it was a really underrated header by Bobby – and I actually thought Fabinho and Henderson did well at times, even though we're not allowed to say that this season!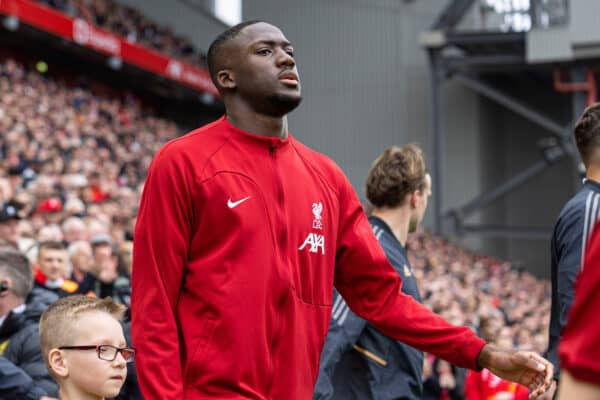 Tom: It's a hat-trick for Konate, he didn't have the greatest start but he went on to have a solid game, especially in that second half as Henry said.
I believe he had the most duels and tackles won and I remember he made a crucial challenge on Xhaka during an Arsenal break.
I also thought Mo looked like our biggest threat going forward and Firmino was quality when he came on. He changed the game massively.
Lastly, top four looks a million miles away now. What are you hoping to see between now and the end of the season?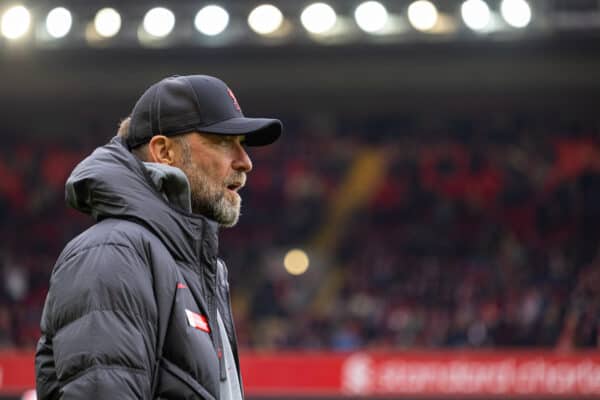 Tom: Yeah I think it's more than likely gone now, we've been unlucky to have three tough fixtures on the bounce but we needed to get three points in at least one of them to stay in the fight.
I just hope we can at least show some fight for the remaining games and finish strongly.
Henry: Yes, let's face it, Liverpool won't be getting top four and they don't remotely deserve to. This has been a painful season.
It's now a case of just trying to get as many points as possible in these remaining games and sealing a European spot of some kind, if we really want that!
I have no doubt that there will be a mix of great, good, average and terrible in the next six weeks or so.
I don't know about you, but I feel we need the summer break as much as Klopp and the players – it has been a draining campaign to witness.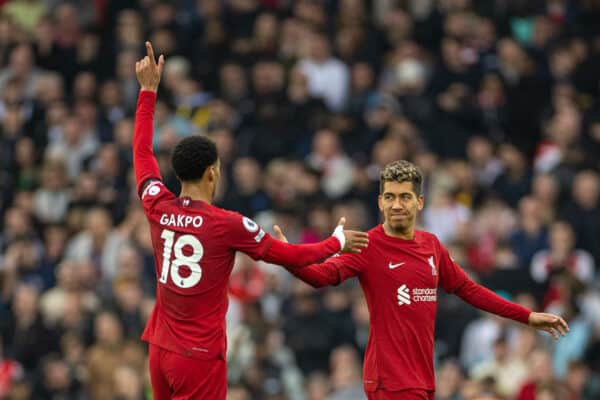 Adam: I agree with all of that, the 17-day break was a treat, wasn't it?
I'm quite Europa Conference-curious I must admit. It might be nice to go after a trophy we've not won before!
All I want to see from now is more of the drive we showed in that second half against Arsenal.
I truly believe Jurgen Klopp can turn this around in the summer but the players need to start showing some grit for him and that was a decent place to start.