Anfield is buzzing on a matchday – and not just inside the ground, thanks to a host of brilliant independent businesses that you can visit around the stadium and indeed the city.
Liverpool Football Club may be the main course when you visit Anfield but the local offerings of food and drink, merchandise and more also serve the appetite.
They're not all just there for you on a matchday either, with the local area bustling with places you should be making a visit to.
With the help of Vista, a Liverpool club partner that's changing the game with its unique small business of the match initiative, we've put together a list of 10 independent places and organisations to visit on your next trip to Liverpool.
For these small businesses, every day is match day.
Homebaked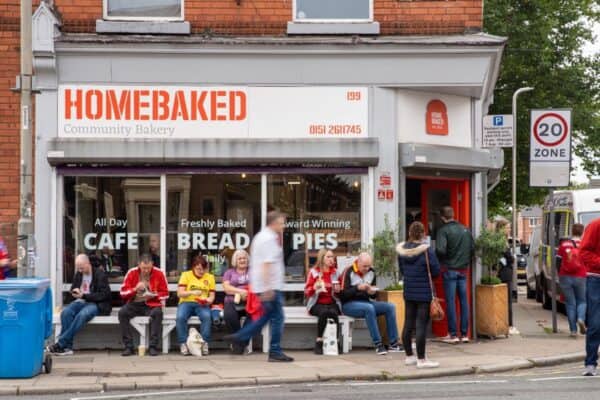 Award-winning football-themed pies, you can't go wrong!
Homebaked is your place for delicious pastries whether it be pre-match, post-match or on non-matchdays.
Located opposite the Kop, on the corner of Oakfield Road, Homebaked is a brilliant non-profit, community-owned bakery and, unsurprisingly, it's a popular destination for fans.
Whether you're in the mood for a Shankly Pie or Kloppage roll, scones, cakes or coffee, there's something for everyone.
Tip: Use the window at the side if there's a queue and you're in a rush, it gets busy on a matchday!
The Sandon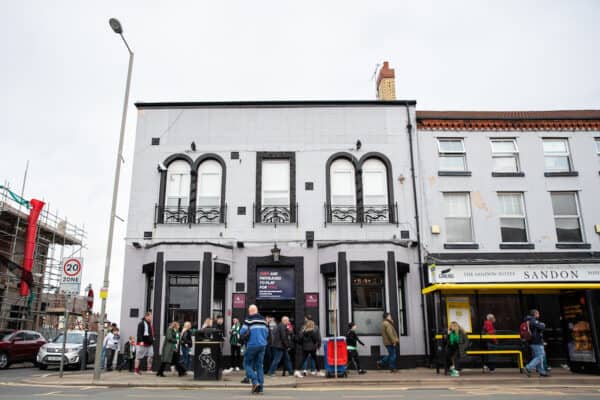 A place steeped in history, this is where Liverpool's players used to get changed before matches and walk across to Anfield!
A hive of activity, the Sandon, on Oakfield Road, was originally built by John Houlding, the founding father of Liverpool, in 1870 and was last restored in 2017.
With a large space out back, it's hosted various viewing parties for some of the club's biggest finals.
Fika
While not at Anfield, if you want a coffee hit, look no further than Fika on Woolton Road, an independent coffee shop and a 2021/22 winner of Vista's 'Small Business of the Match'.
An award-winning Swedish-inspired coffee shop, you can get your daily dose of coffee while biting into some delicious deserts and scran.
They're open every day but Sunday.
Sing Fong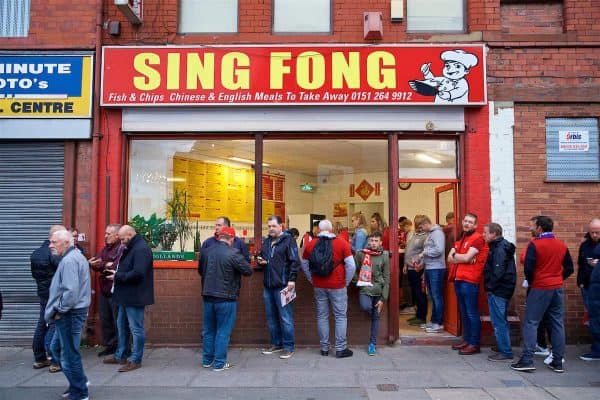 With lines consistently out of the door and down the street, you know you cannot go wrong with some scran from Sing Fong.
You'll smell the delicious scent of the chippy and Chinese takeaway before you see the storefront, although the queues may give it away too!
Opposite the Kop end on Walton Breck Road, it's a must before heading into the ground.
Hat, Scarf or a Badge
An independent retailer with every piece of Liverpool FC-related clothes and merchandise your heart could desire.
Hat, Scarf or a Badge is located on Walton Breck Road, a six-minute walk from Anfield, and the shop is only open on a matchday from three hours prior to kickoff.
For all your independent t-shirts, beanies, hats, scarves, badges and various memorabilia.
Red All Over The Land – Fanzine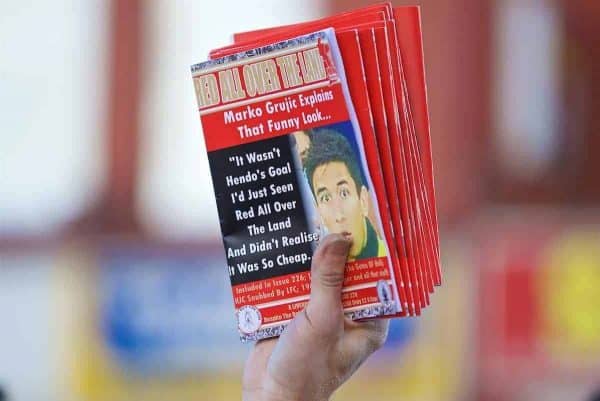 The last remaining print fanzine for the mighty Reds, for £2 you're supporting a lifelong Red and an invaluable local enterprise.
Available every Anfield matchday, let the RAOTL call beckon you towards a copy: "Red all over the land, a Liverpool fanzine only £2."
The Park Pub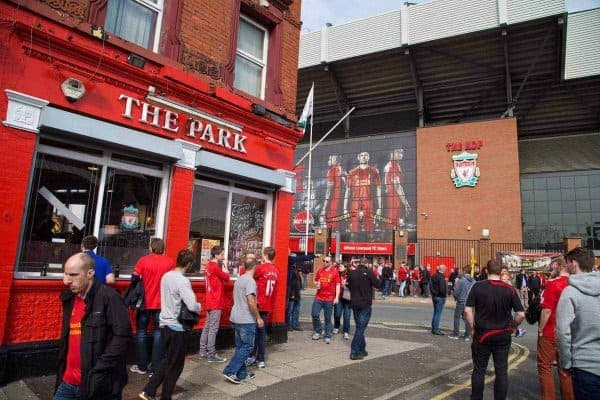 A hive of activity, you can always find this place reeling off one Liverpool chant after another – the energy is contagious.
The Park is located directly opposite the Kop, you can't miss it. Great pints, great atmosphere and a stone's throw away from Anfield. Name a better combination.
Have your singing voice ready!
Hotel TIA
A boutique hotel with a nod to Liverpool FC at every turn, when can we check in?
The brilliant Liverpool theme aside, Hotel TIA is in a prime location on Anfield Road, just a two-minute walk away from Anfield, and is a multi-award winner.
Hotel TIA isn't just for a room to book, though, they offer football packages and they host events, which usually includes a pre-match legend meal on Anfield matchdays.
What more could a Red want?
Laura's Little Bakery
I just wanted to say a massive thank you to everyone who ordered, whatever it was we're eternally grateful for you trusting us to supply the goods & to think some of you come back year after year is just incredible.

Me & @smokefacedgrilla wish you all a very happy new year. ? pic.twitter.com/2K65IUuz9V

— Lauras Little Bakery (@LaurasBakery) January 2, 2023
Laura's Little Bakery is another local Liverpool favourite. Delicious cakes and cupcakes, trust us, even pre-match nerves couldn't deter you from having a taste.
Specialised desserts with a personal touch, if you're looking for a quality cake in Liverpool – Laura's Little Bakery is the one for you, orders can be made online here.
As a winner of Vista's 2022/23 'Small Business of the Match', a fantastic initiative celebrating local businesses, you know you're going to get something amazing.
Fans Supporting Foodbanks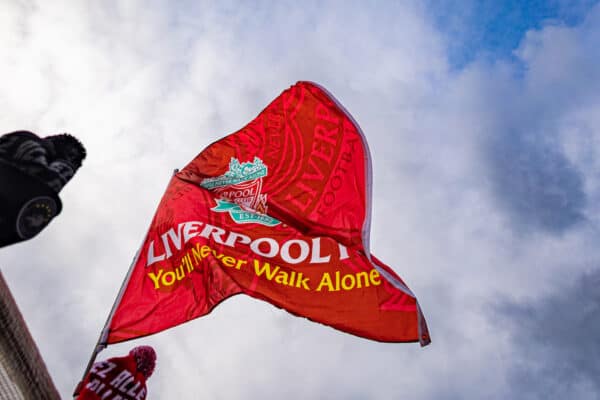 And finally, while not a place to make a purchase, the drop off point for Fans Supporting Foodbanks is one that supporters can make a difference in the local community by making a donation, no matter how small.
Everyone has a right to food and as Fans Supporting Foodbanks state, "hunger doesn't wear club colours."
Every matchday poses an opportunity to show support, so if you're heading to Anfield, drop off locations include near Flagpole Corner, at Homebaked and the LFC club shop.
Every donation makes a huge difference.
---
Find out more about Vista's small business of the match initiative, here.